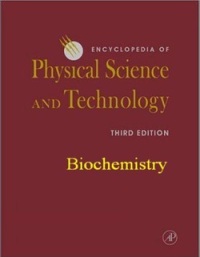 Encyclopedia of Physical Science and Technology (3rd edition) Topic: Biochemistry is edited by Robert A. Meyers and published by Academic Press in 2001. In the summer of 1983, a group of world-renowned scientists were queried regarding the need for an encyclopedia of the physical sciences, engineering, and mathematics written for use by the scientific and engineering community. The projected readership would be endowed with a basic scientific education but would require access to authoritative information not in the reader's specific discipline. The initial advisory group, consisting of Subrahmanyan Chandrasekhar, Linus Pauling, Vladimir Prelog, Abdus Salam, Glenn Seaborg, Kai Siegbahn, and Edward Teller, encouraged this notion and offered to serve as our senior executive advisory board.
The latest edition of the Encyclopedia of Physical Science and Technology has been completely updated with no less than 90% revised material and 50% new content throughout the volumes Presents eighteen volumes, nearly 800 authoritative articles and 14,500 pages is lavishly illustrated with over 7,000 photographs, illustrations and tables presents an increased emphasis on the hottest topics such as information processing, environmental science, biotechnology and biomedicine includes a final Index Volume containing Thematic, Relational and Subject indexes.
Free download Encyclopedia of Physical Science and Technology (3rd edition) Topic: Biochemistry in pdf from following external download links.

File Size: 13.3 MB, Pages: 220. Kindly read Disclaimer first.
How to

Download?

 After you click on Download Button, your download will start automatically. If it doesn't start then follow these instructions: After opening of download link press ctrl + S to save this book OR click on file menu a drop down menu will open then click on Download to save this book.