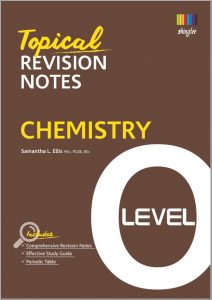 Free download Topical Revision Notes Chemistry O Level written by Samantha L. Ellis in pdf.
As per author, O Level Chemistry Topical Revision Notes has been written in accordance with the latest syllabus issued by the Ministry of Education (Singapore).
This book is divided into 23 topics, each covering a topic as laid out in the syllabus. Important concepts are highlighted in each topic, with relevant examples and diagrams to help students learn how to apply theoretical knowledge. We believe this book will be of great help to teachers teaching the subject and students preparing for their O Level Chemistry examination."
Con

tents
Topic 1 Kinetic Particle Theory
Topic 2 Experimental Techniques
Topic 3 Methods of Purification
Topic 4 Elements and Compounds
Topic 5 Atoms and Ions
Topic 6 Chemical Bonding
Topic 7 Structure of Matter
Topic 8 Writing Formulae and Equations
Topic 9 Stoichiometry and Mole Concept
Topic 10 Acids and Bases
Topic 11 Salts
Topic 12 Oxidation and Reduction
Topic 13 Metals
Topic 14 Electrolysis
Topic 15 Periodic Table
Topic 16 Energy Changes
Topic 17 Speed of Reaction
Topic 18 Ammonia
Topic 19 Air and Atmosphere
Topic 20 Introduction to Organic Chemistry
Topic 21 Alkanes and Alkenes
Topic 22 Alcohols and Carboxylic Acids
Topic 23 Macromolecules
Free download Topical Revision Notes Chemistry O Level written by Samantha L. Ellis in pdf from following downloading links.
Follow these instructions to unlock the download links. Sometimes download link(s) is/are not visible on mobile devices, so if you face this issue, kindly do visit this page via laptop/desktop computer.
Password for Download Links: chemistry.com.pk
File Size: 3.98MB. Pages: 84. Download Instructions. Please read Disclaimer.
Don't forget to drop a comment below after downloading this book.
You may also like to free download
Free Download Hundreds of Best-Selling Chemistry Books from HERE.
P.S: If the download link(s) is/are not working, kindly drop a comment below, so we'll update the download link for you.
Happy downloading!