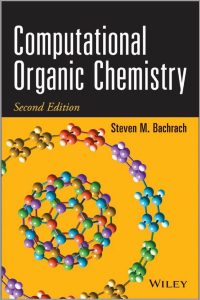 Free download Computational Organic Chemistry (2nd edition) written by Steven M. Bachrach in pdf.
This book is a testament to just how difficult it is to adequately account for
the properties and reactivities of real chemical systems using quantum mechanics
(QM).
The structure of the book remains largely intact from the first edition, with a few important modifications. Throughout this book. I aim to demonstrate the major impact that computational methods have had upon the current understanding of organic chemistry. I present a survey of organic problems where computational chemistry has played a significant role in developing new theories or where it provided important supporting evidence of experimentally derived insights. I expand the scope to include computational enzymology to point interested readers toward how the principles of QM applied to organic reactions can be extended to biological system too. I also highlight some areas where computational methods have exhibited serious weaknesses.
The book is designed for a broad spectrum of users: practitioners of computational chemistry who are interested in gaining a broad survey or an entrée into a new area of organic chemistry, synthetic and physical organic chemists who might be interested in running some computations of their own and would like to learn of success stories to emulate and pitfalls to avoid, and graduate students interested in just what can be accomplished by computational approaches to real chemical problems.
Con

tents
Quantum Mechanics for Organic Chemistry
Computed Spectral Properties and Structure Identification
Pericyclic Reactions
Diradicals and Carbenes
Organic Reactions of Anions
Solution-Phase Organic Chemistry
Organic Reaction Dynamics
Computational Approaches to Understanding Enzymes
Free download Computational Organic Chemistry (2nd edition) written by Steven M. Bachrach in pdf from following download links.
Kindly follow these instructions to unlock the download link(s). Sometime download link(s) is/are not visible on mobile devices, so if you face this issue, kindly do visit this page via laptop/desktop computer.
[sociallocker id=1417]
[/sociallocker]
File Size: 10.5 MB. Pages: 633. Download Instructions. Kindly read the disclaimer.
You can also buy Computational Organic Chemistry (2nd edition) written by Steven M. Bachrach from Amazon by Clicking the image below.

You may also like to free download Organic Chemistry I Workbook for Dummies (2nd edition) written by Arthur Winter in pdf.
Free download hundreds of chemistry books in pdf from HERE.
P.S: If the download link(s) is/are not working, kindly drop a comment below, so we'll update the download link for you.
Happy downloading!