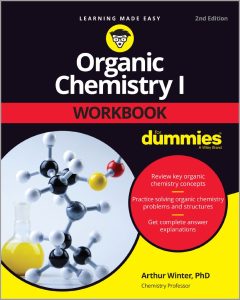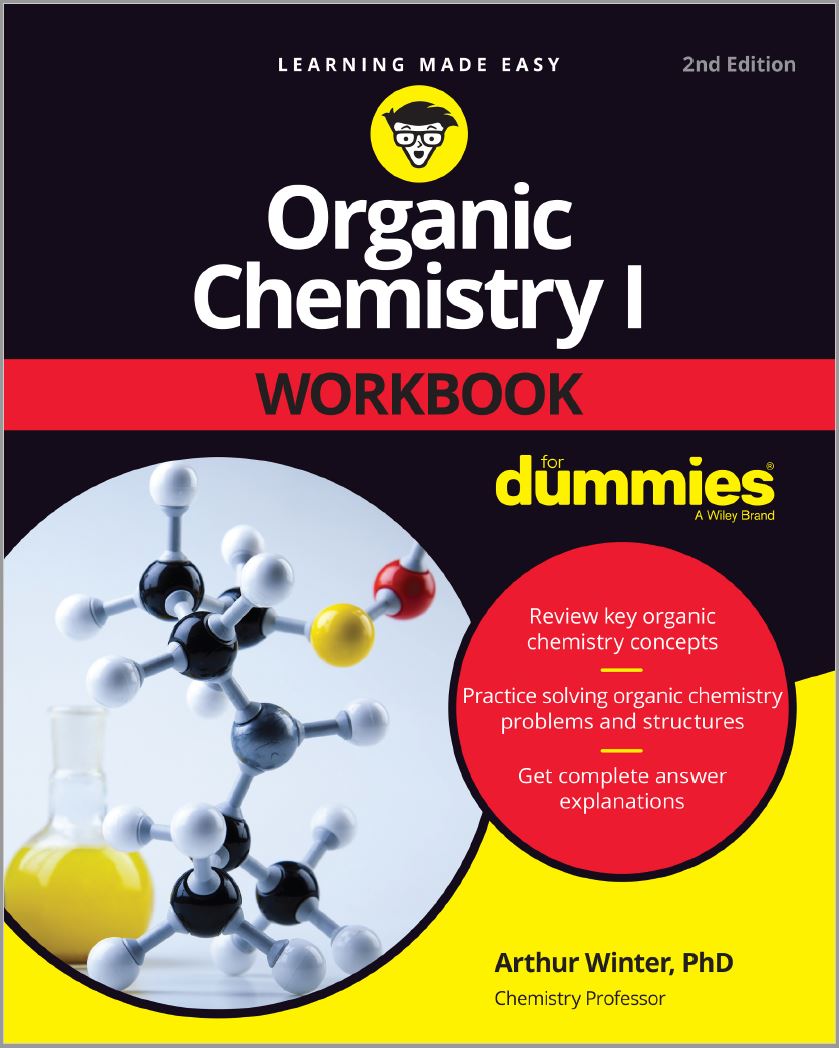 Free download Organic Chemistry I Workbook for Dummies (2nd edition) written by Arthur Winter in pdf.
Organic chemistry is a subject that blends basic chemistry, logic problems, 3-D puzzles, and stick-figure art that looks like something out of a prehistoric cave. If you thirst for knowledge, taking organic chemistry will feel like drinking from a firehose. Indeed, I've heard some students complain that the weight of their organic chemistry textbook is comparable to that of a small elephant. Rest assured, though, that these complaints represent shameless exaggerations: I have yet to find an ochem text that weighs even two-thirds as much.
Nevertheless, organic chemistry does cover so much material that you can't possibly hope to memorize it all. But good news! You don't need to memorize the vast majority of the material if you understand the basic concepts at a fundamental level, and indeed, memorization beyond the basic rules and conventions is even frowned upon. The catch is that to really understand the concepts, you have to practice at it by working problems. Lots of problems. Lots. Did I mention the whole working problems thing? Mastering organic chemistry without working problems is impossible — kind of like trying to become a chef by reading recipes and never practicing chopping up veggies.
This workbook is for getting hands-on experience. Organic chemistry exams are a lot like a gunfight. You act with discipline only if you've drilled the material. Classmates who haven't worked the problems will see the problems gunning at them on an exam and spook. They'll come down with a bad case of exam-block, let their nerves get the better of them, and get blown to smithereens. You, on the other hand, having been to boot camp and practiced by drilling the problems, will stare the exam down like you were Wyatt Earp or Annie Oakley. When the smoke clears, you'll emerge without a nick, and it'll be the exam that's carted away on a stretcher.
Con

tents

Part 1: The Fundamentals of Organic Chemistry
Working with Models and Molecules
Speaking Organic Chemistry: Drawing and Abbreviating Lewis Structures
Drawing Resonance Structures
Working with Acids and Bases
Part 2:The Bones of Organic Molecules: The Hydrocarbons
The Skeletons of Organic Molecules: The Alkanes
Shaping Up with Bond Calisthenics and Conformation
Doubling Down: The Alkenes
Tripling the Fun: Alkyne Reactions and Nomenclature
Part 3: Functional Groups and Their Reactions
The Leaving Group Boogie: Substitution and Elimination of Alkyl Halides
Not as Thunk as You Drink I Am: The Alcohols
Conjugated Dienes and the Diels-Alder Reaction
The Power of the Ring: Aromatic Compounds
Part 4: Detective Work: Spectroscopy and Spectrometry
Breaking Up (Isn't Hard to Do): Mass Spectrometry
Cool Vibrations: IR Spectroscopy
Putting Molecules under the Magnet: NMR Spectroscopy
Part 5: The Part of Tens
The Ten Commandments of Organic Chemistry
Ten Tips for Acing Orgo Exams
Ten Cool Natural Products
Free download Organic Chemistry I Workbook for Dummies (2nd edition) written by Arthur Winter in pdf from following download links.
Kindly follow these instructions to unlock the download link(s). Sometime download link(s) is/are not visible on mobile devices, so if you face this issue, kindly do visit this page via laptop/desktop computer.
Password for Download Links: chemistry.com.pk
File Size: 15.3 MB. Pages: 403. Download Instructions. Kindly read the disclaimer.
You can also buy Organic Chemistry I Workbook for Dummies (2nd edition) written by Arthur Winter from Amazon by Clicking the image below.

You may also like to free download
Fee Download Hundreds of Best-Selling Chemistry Books from HERE.
P.S: If the download link(s) is/are not working, kindly drop a comment below, so we'll update the download link for you.
Happy downloading!