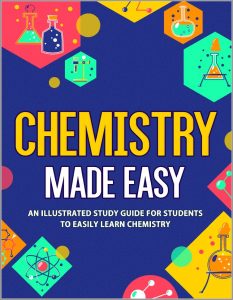 Free download Chemistry Made Easy: An Illustrated Study Guide for Students To Easily Learn Chemistry in pdf.
Chemistry is a huge topic; some students spend their entire college careers studying each and every aspect of it. There are many subtopics in the study of chemistry that are woven together to create an image of what we know about atoms, molecules, and chemical reactions. There are probably millions of different chemical reactions out there. As there are currently 118 elements in the periodic table, the possibilities in the numbers and types of molecules out there are endless.
You probably don't have four years of college to devote to studying chemistry. You may not even have a semester to cram in what you need to know. No worries! This book has you covered. You will surely not be a chemistry newbie after reading this, even as you will not be able to get a chemist job anytime soon. No matter; it's probably not a job you aspire to have, anyway.
In this book, you will learn that chemistry is about matter. You can break matter down a great deal—all the way down to molecules, atoms, and subatomic particles. The smaller the matter, the weirder it gets because none of these aspects of matter can be seen under a microscope, and some are nothing more than a mathematical idea (and not a real thing). Don't worry; none of this is Greek, and you'll soon feel like a pro as you come to understand the language of chemistry. Let's start with the easy parts first then work our way up to more complex aspects of this fascinating (yes, really!) topic.
Con

tents

Section 1: Introduction
Important Numbers and Terms to Know
The Structure of Matter
Atomic Theory
The Periodic Table
Section 3: Chemical Bonds
Ionic Bonding
Covalent Bonding
Other Bond Types
Section 4: Chemical Reactions
Chemical Equations
Types of Chemical Reactions
Section 5: Thermodynamics and Electrochemistry
Thermodynamics and Equilibrium
Electrochemistry
Section 6: Gases, Liquids, and Solids
Section 7: Acid Base Chemistry
Section 8: Organic Chemistry
Hydrocarbons
Alcohols
Aromatic Compounds
Other Types of Organic Molecules
Section 9: Biochemistry
Free download Chemistry Made Easy: An Illustrated Study Guide for Students To Easily Learn Chemistry in pdf from following download links.
Kindly follow the instructions to unlock the download link(s). Sometime download link(s) is/are not visible on mobile devices, so if you face this issue, kindly do visit this page via laptop/desktop computer.
[sociallocker id=1417]
[/sociallocker]
File Size: 15.2 MB. Pages: 234. Download Instructions. Kindly read the disclaimer.
You can also buy Chemistry Made Easy: An Illustrated Study Guide for Students To Easily Learn Chemistry from Amazon by Clicking the image below.

You may also like to free download Fundamentals of General, Organic, and Biological Chemistry (8th Global Edition in SI Units) written by John McMurry, David S. Ballantine, Carl A. Hoeger and Virginia E. Peterson in pdf
Free download hundreds of chemistry books in pdf from HERE.
P.S: If the download link(s) is/are not working, kindly drop a comment below, so we'll update the download link for you.
Happy downloading!