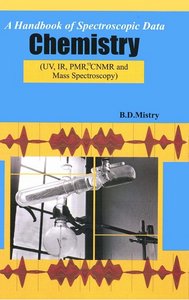 A Handbook of Spectroscopic Data: Chemistry – UV, IR, 1HNMR, 13CNMR and Mass Spectrometry is written by B. D. Mistry B.K.M Science College Valsad, Gujrat and is published by Oxford Book Company, Jaipur, India.
In this book spectroscopy data regarding to chemistry of following topics is given
Ultraviolet Spectroscopy
Infrared Spectroscopy
Proton Nuclear Magnetic Resonance Spectroscopy
Carbon-13 Nuclear Magnetic Resonance Spectroscopy
Mass Spectrometry
Free download A Handbook of Spectroscopic Data book from the link given below. The download link is tested and found spam and virus free.

P.S: After opening download link press ctrl + S to save this book OR click on file menu a drop down menu will open than click on Download to save this book.