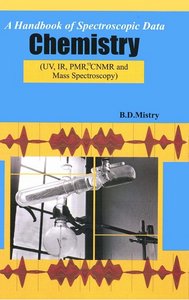 Free download A Handbook of Spectroscopic Data: Chemistry – UV, IR, 1HNMR, 13CNMR and Mass Spectrometry is written by B. D. Mistry B.K.M Science College Valsad, Gujrat and is published by Oxford Book Company, Jaipur, India.
In this book spectroscopy data regarding to chemistry of following topics is given
Ultraviolet Spectroscopy
Infrared Spectroscopy
Proton Nuclear Magnetic Resonance Spectroscopy
Carbon-13 Nuclear Magnetic Resonance Spectroscopy
Mass Spectrometry
Free download A Handbook of Spectroscopic Data book from the link given below. The download link is tested and found spam and virus free.
Password for Download Link: chemistry.com.pk
File Size: 6.9 MB. Pages: 247. Download Instructions. Please read Disclaimer.
You may also like to free download Quantitative Chemical Analysis (10th edition) written by Daniel C. Harris and Charles A. Lucy in pdf.
Free download hundreds of chemistry books in pdf from HERE.
P.S: If the download link(s) is/are not working, kindly drop a comment below, so we'll update the download link for you.
Happy downloading!