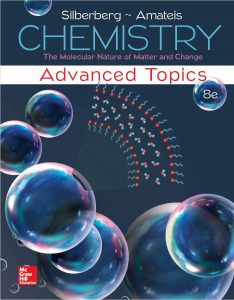 Free download Chemistry The Molecular Nature of Matter and Change with Advanced Topics (8th Edition) written by Martin S. Silberberg and Patricia G. Amateis in pdf.
The eighth edition of Chemistry: The Molecular Nature of Matter and Change maintains its standard-setting position among general chemistry textbooks by evolving further to meet the needs of professor and student. The text still contains the most accurate molecular illustrations, consistent step-by-step worked problems, and an extensive collection of end-of-chapter problems. And changes throughout this edition make the text more readable and succinct, the artwork more teachable and modern, and the design more focused and inviting. The three hallmarks that have made this text a market leader are now demonstrated in its pages more clearly than ever.
A favorite feature, the section summaries that conclude every section restate the major ideas concisely and immediately (rather than postponing such review until the end of the chapter).
A rich catalog of study aids ends each chapter to help students review the content:
∙ Learning Objectives, with section and/or sample problem numbers, focus on the concepts to understand and the skills to master.
∙ Key Terms, boldfaced and defined within the chapter, are listed here by section (with page numbers), as well as being defined in the Glossary.
∙ Key Equations and Relationships are highlighted and numbered within the chapter and listed here with page numbers.
∙ Brief Solutions to Follow-up Problems triple the number of worked problems by providing multi-step calculations at the end of the chapter, rather than just numerical answers at the back of the book.
Con

tents
Keys to Studying Chemistry: Definitions, Units, and Problem Solving
The Components of Matter
Stoichiometry of Formulas and Equations
Three Major Classes of Chemical Reactions
Gases and the Kinetic-Molecular Theory
Thermochemistry: Energy Flow and Chemical Change
Quantum Theory and Atomic Structure
Electron Configuration and Chemical Periodicity
Models of Chemical Bonding
The Shapes of Molecules
Theories of Covalent Bonding
Intermolecular Forces: Liquids, Solids, and Phase Changes
The Properties of Mixtures: Solutions and Colloids
Periodic Patterns in the Main-Group Elements
Organic Compounds and the Atomic Properties of Carbon
Kinetics: Rates and Mechanisms of Chemical Reactions
Equilibrium: The Extent of Chemical Reactions
Acid-Base Equilibria
Ionic Equilibria in Aqueous Systems
Thermodynamics: Entropy, Free Energy, and Reaction Direction
Electrochemistry: Chemical Change and Electrical Work
The Elements in Nature and Industry
Transition Elements and Their Coordination Compounds
Nuclear Reactions and Their Applications
Free download Chemistry The Molecular Nature of Matter and Change with Advanced Topics 8th Edition by Martin S. Silberberg and Patricia G. Amateis in pdf from following download links.
Follow these instructions to unlock the download links. Sometimes download link(s) is/are not visible on mobile devices, so if you face this issue, kindly do visit this page via laptop/desktop computer.
Password for Download Links: chemistry.com.pk
File Size: 60.1MB. Pages: 1266. Download Instructions. Please read Disclaimer.
Don't forget to drop a comment below after downloading this book.
You may also like to free download
Free Download Hundreds of Best-Selling Chemistry Books from HERE.
P.S: If the download link(s) is/are not working, kindly drop a comment below, so we'll update the download link for you.
Happy downloading!