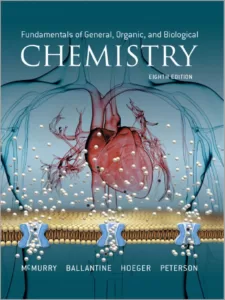 Free download Fundamentals of General, Organic, and Biological Chemistry (8th Ed.) written by John McMurry, David S. Ballantine, Carl A. Hoeger and Virginia E. Peterson in pdf.
This textbook and its related digital resources provide students in the allied health sciences with a needed background in chemistry and biochemistry while offering a general context for chemical concepts to ensure that students in other disciplines gain an appreciation of the importance of chemistry in everyday life.
To teach chemistry all the way from "What is an atom?" to "How do we get energy from glucose?" is a challenge. Throughout our general chemistry and organic chemistry coverage, the focus is on concepts fundamental to the chemistry of living things and everyday life. In our biochemistry coverage, we strive to meet the further challenge of providing a context for the application of those concepts in biological systems.
Our goal is to provide enough detail for thorough understanding while avoiding so much detail that students are overwhelmed. Many practical and relevant examples are included to illustrate the concepts and enhance student learning.
The material covered is ample for a two-term introduction to general, organic, and biological chemistry. While the general and early organic chapters contain concepts that are fundamental to understanding the material in biochemistry, the later chapters can be covered individually and in an order that can be adjusted to meet the needs of the students and the duration of the course.
The writing style is clear and concise and punctuated with practical and familiar examples from students' personal experience. Art work, diagrams, and molecular models are used extensively to provide graphical illustration of concepts to enhance student understanding. Since the true test of knowledge is the ability to apply that knowledge appropriately, we include numerous worked examples that incorporate consistent problem-solving strategies.
Regardless of their career paths, all students will be citizens in an increasingly technological society. When they recognize the principles of chemistry at work not just in their careers but in their daily lives, they are prepared to make informed decisions on scientific issues based on a firm understanding of the underlying concepts.
Con

tents
Matter and Measurements
Ionic Compounds
Molecular Compounds
Classification and Balancing of Chemical Reactions
Chemical Reactions: Mole and Mass Relationships
Chemical Reactions: Energy, Rates, and Equilibrium
Gases, Liquids, and Solids
Solutions
Acids And Bases
Nuclear Chemistry
Alkenes, Alkynes, and Aromatic Compounds
Some Compounds with Oxygen, Sulfur, or a Halogen
Aldehydes and Ketones
Amines
Carboxylic Acids and Their Derivatives
Amino Acids and Proteins
Enzymes and Vitamins
Carbohydrates
The Generation of Biochemical Energy
Carbohydrate Metabolism
Lipids
Lipid Metabolism
Protein and Amino Acid Metabolism
Nucleic Acids and Protein Synthesis
Genomics
Chemical Messengers: Hormones, Neurotransmitters, and Drugs
Body Fluids
Free download Fundamentals of General, Organic, and Biological Chemistry (8th Ed.) written by John McMurry, David S. Ballantine, Carl A. Hoeger and Virginia E. Peterson in pdf from following download links.
Kindly follow the instructions to unlock the download link(s). Sometime download link(s) is/are not visible on mobile devices, so if you face this issue, kindly do visit this page via laptop/desktop computer.
Password for Download Links: chemistry.com.pk
File Size: 90.8MB. Pages: 972. Download Instructions. Kindly read the disclaimer.
You may also like to free download:
Free Download Hundreds of Best-Selling Chemistry Books from HERE.
P.S: If the download link(s) is/are not working, kindly drop a comment below, so we'll update the download link for you.
Happy downloading!