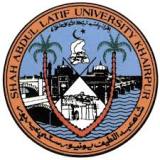 Shah Abdul Latif University (SALU) is founded in 1976. SALU is a public sector general university located in Khairpur; a city of Sindh, Pakistan. SALU is chartered by Government of Sindh and recognized by Higher Education Commission of Pakistan. SALU has two campuses;
Khairpur Campus (Main Campus)
Shikarpur Campus
Department of Chemistry, Shah Abdul Latif University is located in Khairpur Campus of the university. The department offers undergraduate, graduate, postgraduate and doctorate academic programs in the field of chemistry; especially in organic and inorganic chemistry.
Academic Programs
Bachelor of Science (BS – 4 years)
Master of Science / Master of Philosophy (MS / M.Phil – 2 years)
Doctor of Philosophy (Pd.D – 3 years)
Ph.D program offered in Applied, Organic, Inorganic, and Physical Chemistry.
Contact Details

Postal Address: Department of Chemistry, Shah Abdul Latif University, Khairpur Mir's, Sindh, Pakistan

Phone: 0092-243-9280283 and 0092-243-9280051 to 54

Email: [email protected]

Webpage: http://www.salu.edu.pk/academics/departmentsDetails/depacademicdetails.aspx?did=4