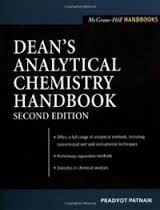 Dean's Analytical Chemistry Handbook second edition (McGraw-Hill Handbooks) is written by Pradyot Patnaik and published by McGraw-Hill.
offers a full range of analytical methods, including conventional wet and instrumental techniques
preliminary separation methods
statics in chemical analysis
Table of Contents
Preliminary Operations of Analysis
Preliminary Separation Methods
Statistics in Chemical Analysis
Gravimetric and Volumetric Analysis
Chromatographic Methods
Electronic Absorption and Luminescence Spectroscopy
Infrared and Raman Spectroscopy
Atomic Spectroscopy
X-Ray Methods
Mass Spectrometry
Radiochemical Methods
Nuclear Magnetic Resonance Spectroscopy and Electron Spin Resonance
Magnetic Susceptibility
Electroanalytical Methods
Thermal Analysis
Optical Activity and Rotatory Dispersion
Refractometry
Elemental Analysis of Organic Compounds
Determination of Functional Groups in Organic Compounds
Analysis of Pesticides and Herbicides
Analysis of Trace Pollutants in the Environment
Air Analysis
Mineral Analysis
Free download Dean's Analytical Chemistry Handbook second edition written by Pradyot Patnaik from following download link. This is an external download link and we found it safe and viruses free.

Size: 8.64 MB. Kindly read Disclaimer first.
Download Instructions
After you click on Download Button, your download will start automatically. If it doesn't start then follow these instructions: After opening of download link press ctrl + S to save this book OR click on file menu a drop down menu will open then click on Download to save this book.