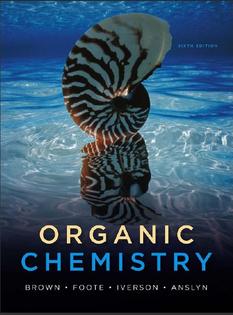 Organic Chemistry By Brown, Foote, Iverson and Anslyn (sixth edition) is written by William H. Brown (Beloit College), Christopher S. Foote (University of California, Los Angeles), Brent L. Iverson (University of Texas, Austin), Eric V. Anslyn (University of Texas, Austin) and Chapter 29 was originally contributed by Bruce M. Novak (North Carolina State University) and it is published by Brooks/Cole Cengage Learning in 2010.
This Sixth Edition of Organic Chemistry significantly extends the transformation started in the Fifth Edition. Students taking an organic chemistry course have two objectives; the first is to learn organic chemistry, and the second is to establish the intellectual foundation for other molecular science courses. Most often, these other courses involve biochemistry or specialized topics such as materials science. This textbook addresses these two objectives head-on by first presenting mechanistic and synthetic organic chemistry geared toward giving students a fundamental understanding of organic molecules and reactions, as well as their mechanisms and uses in organic synthesis. The text then builds upon the fundamentals by providing an emphasis on bridging concepts that will prepare students for subsequent science courses. Several unique elements including comprehensive end of chapter summaries, a new paradigm for learning mechanisms and a new learning tool called Organic Chemistry Road Maps have been included to increase the efficiency of student studying and learning.
Table of Contents
Covalent Bonding and Shapes of Molecules
Alkanes and Cycloalkanes
Stereoisomerism and Chirality
Acids and Bases
Alkenes: Bonding, Nomenclature, and Properties
Reactions of Alkenes
Alkynes
Haloalkanes, Halogenation, and Radical Reactions
Nucleophilic Substitution and b-Elimination
Alcohols
Ethers, Epoxides, and Sulfides
Infrared Spectroscopy
Nuclear Magnetic Resonance Spectroscopy
An Introduction to Organometallic Compounds
Aldehydes and Ketones
Carboxylic Acids
Functional Derivatives of Carboxylic Acids
Enolate Anions and Enamines
Dienes, Conjugated Systems, and Pericyclic Reactions
Benzene and the Concept of Aromaticity
Reactions of Benzene and Its Derivatives
Amines
Catalytic Carbon-Carbon Bond Formation
Carbohydrates
Lipids
Amino Acids and Proteins
Nucleic Acids
Organic Polymer Chemistry
Free download Organic Chemistry By Brown Foote Iverson and Anslyn in pdf from following external download link. We found this link virus free.
[sociallocker id=1417]
[/sociallocker]
Size: 100 MB. Pages: 1303, fully colored. Kindly read Disclaimer.
How to Download?
When you click on download button a new window will open. Click on Download Anyway on that window to download this book.
P.S: If you found the download link of this book broken, kindly tell us in comments. Happy downloading 🙂