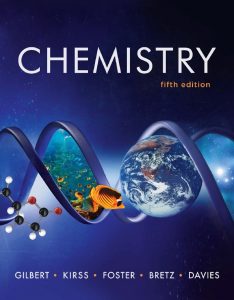 Free download CHEMISTRY: The Science in Context (5th Edition) written by Thomas R. Gilbert, Rein V. Kriss, Natalie Foster, Stacey Lowery Bretz and Geoffrey Davies in pdf published in 2018.
As per authors of this book, "We wrote this book with three overarching goals in mind: to make chemistry interesting, relevant, and memorable; to enable you to see the world from a molecular point of view; and to help you become an expert problem-solver. You have a number of resources available to assist you to succeed in your general chemistry course.
This textbook will be a valuable resource, and we have written it with you, and the different ways you may use the book, in mind. If you are someone who reads a chapter from the first page to the last, you will see that Chemistry: The Science in Context, Fifth Edition, introduces the chemical principles within a chapter by using contexts drawn from daily life as well as from other disciplines, including biology, environmental science, materials science, astronomy, geology, and medicine. We believe that these contexts make chemistry more interesting, relevant, understandable, and memorable.
Chemists' unique perspective of natural processes and insights into the properties of substances, from high-performance alloys to the products of biotechnology, are based on understanding these processes and substances at the particulate level (the atomic and molecular level). A major goal of this book is to help you develop this microscale perspective and link it to macroscopic properties. With that in mind, we begin each chapter with a Particulate Review and Particulate Preview on the first page. The goal of these tools is to prepare you for the material in the chapter. The Review assesses important prior knowledge you need to interpret particulate images in the chapter. The Particulate Preview asks you to speculate about new concepts you will see in the chapter and is meant to focus your reading.
Con

tents
Particles of Matter: Measurement and the Tools of Science
Atoms, Ions, and Molecules: Matter Starts Here
Stoichiometry: Mass, Formulas, and Reactions
Reactions in Solution: Aqueous Chemistry in Nature
Thermochemistry: Energy Changes in Reactions
Properties of Gases: The Air We Breathe
A Quantum Model of Atoms: Waves, Particles, and Periodic Properties
Chemical Bonds: What Makes a Gas a Greenhouse Gas?
Molecular Geometry: Shape Determines Function
Intermolecular Forces: The Uniqueness of Water
Solutions: Properties and Behavior
Solids: Crystals, Alloys, and Polymers
Chemical Kinetics: Reactions in the Atmosphere
Chemical Equilibrium: How Much Product Does a Reaction Really Make?
Acid–Base Equilibria: Proton Transfer in Biological Systems
Additional Aqueous Equilibria: Chemistry and the Oceans
Thermodynamics: Spontaneous and Nonspontaneous Reactions and Processes
Electrochemistry: The Quest for Clean Energy
Nuclear Chemistry: Applications to Energy and Medicine
Organic and Biological Molecules: The Compounds of Life
The Main Group Elements: Life and the Periodic Table
Transition Metals: Biological and Medical Applications
Free download CHEMISTRY: The Science in Context (5th edition) in pdf from following download links.
Kindly follow the instructions to unlock the download link(s). Sometimes download link(s) is/are not visible on mobile devices, so if you face this issue, kindly do visit this page via laptop/desktop computer.
Password for Download Links: chemistry.com.pk
File Size: 82.0MB. Pages: 1261. Download Instructions. Please read Disclaimer.
You may also like to Free Download
Free Download Hundreds of Best-Selling Chemistry Books from HERE.
P.S: If the download link(s) is/are not working, kindly drop a comment below, so we'll update the download link for you.
Happy downloading!