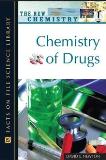 The New Chemistry: Chemistry of Drugs is written by David E. Newton and published by Facts On File in 2007.
Table of Contents: Chemistry of Drugs
Understanding the way drugs work in the body
Natural products
Recombinant DNA as a new source of drugs
Designer drugs
Rational drug design: Structure-activity relationships and combinatorial chemistry
Free download Chemistry of Drugs by David E. Newton by clicking on following download button. This is an external download link, we've checked this link and found free of viruses.

Size: 3MB. Please Read Disclaimer First.
Download Instruction
 After opening download link press ctrl + S to save this book OR click on file menu a drop down menu will open than click on Download to save this book.