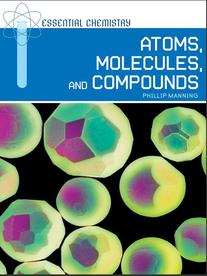 Essential Chemistry – Atoms, Molecules and Compounds is written by Philip Manning and published by Chelsea House Publications in 2008. Phillip Manning is the author of four other books and 150 or so magazine and newspaper articles. His most recent book, Islands of Hope, won the 1999 National Outdoor Book Award for nature and the environment. Manning has a Ph.D in physical chemistry from the University of North Carolina at Chapel Hill. Manning was assisted in this project by Dr. Richard C. Jarnagin, who taught chemistry at the University of North Carolina for many years. He mentored numerous graduate students, including the author. In assisting with this book, he caught many errors. Those that remain, however, are the sole responsibility of the author.
Table

of Contents
Meet the Atom
The Quantum Model
The Nucleus
The Electrons
The Elements
Chemical Reactions: Making Molecules
Chemical Bonds
Common Compounds, Uncommon Results
Periodic Table of the Elements
Notes
Glossary
Bibliography
Further Reading
Index
Free download Essential Chemistry – Atoms, Molecules and Compounds by Philip Manning in pdf from following external download link.
File size: 4.63 MB, Pages: 145. Kindly read Disclaimer.
How

to Download?

After you click on Download Button, your download will start automatically. If it doesn't start then follow these instructions: After opening of download link press ctrl + S to save this book OR click on file menu a drop down menu will open then click on Download to save this book.