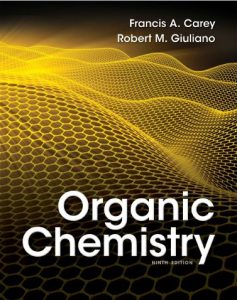 Free download Organic Chemistry (9th edition) written by Francis A. Carey and Robert M. Giuliano in .pdf published in 2014.
According to the authors, "The goal of this text, as it has been through eight previous editions, is to provide students with the conceptual tools to understand and apply the relationship between the structures of organic compounds and their properties. Both the organization of the text and the presentation of individual topics were designed with this objective in mind.
In planning this edition, we committed ourselves to emphasizing line formulas as the primary tool for communicating structural information. Among other features, they replace the act of reading and interpreting strings of letters with seeing structural relationships between molecules. In order to provide a smooth transition for students as they progress from the textual representations they've used in introductory chemistry, we gradually increase the proportion of bond-line formulas chapter by chapter until they eventually become the major mode of structural representation."
Contents
Structure Determines Properties
Alkanes and Cycloalkanes: Introduction to Hydrocarbons
Alkanes and Cycloalkanes: Conformations and cis–trans Stereoisomers
Alcohols and Alkyl Halides: Introduction to Reaction Mechanisms
Structure and Preparation of Alkenes: Elimination Reactions
Addition Reactions of Alkenes
Chirality
Nucleophilic Substitution
Alkynes
Conjugation in Alkadienes and Allylic Systems
Arenes and Aromaticity
Electrophilic and Nucleophilic Aromatic Substitution
Organometallic Compounds
Alcohols, Diols, and Thiols
Ethers, Epoxides, and Sulfides
Aldehydes and Ketones: Nucleophilic Addition to the Carbonyl Group
Carboxylic Acids
Carboxylic Acid Derivatives: Nucleophilic Acyl Substitution
Enols and Enolates
Amines
Phenols
Carbohydrates
Lipids
Amino Acids, Peptides, and Proteins
Nucleosides, Nucleotides, and Nucleic Acids
Synthetic Polymers
Free download Organic Chemistry (9th edition) written by Francis A. Carey and Robert M. Giuliano in .pdf from following download links.
Kindly follow the instructions to unlock the download link(s). Sometimes download link(s) is/are not visible on mobile devices, so if you face this issue, kindly do visit this page via laptop/desktop computer.
[sociallocker id=1417]
[/sociallocker]
File Size: 31.3 MB. Pages: 1233. Download Instructions. Kindly read the disclaimer.
You may also like to download Organic Chemistry (7th edition) by Francis A. Carey in .pdf.
Don't forget to say thanks in comments after downloading this book. ?
P.S: If the download link(s) is/or not working, kindly drop a comment below so we could update the download link for you.
Happy downloading 🙂