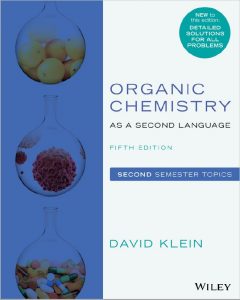 Free download Organic Chemistry as a Second Language Second Semester Topics (5th Edition) written by David Klein in pdf published in 2020.
Organic chemistry can be a challenging subject. Most students view organic chemistry as a subject requiring hours upon hours of memorization. Author David Klein's Second Language books prove this is not true―organic chemistry is one continuous story that actually makes sense if you pay attention. Offering a unique skill-building approach, these market-leading books teach students how to ask the right questions to solve problems, study more efficiently to avoid wasting time, and learn to speak the language of organic chemistry.
The fifth edition of Organic Chemistry as a Second Language: Second Semester Topics builds upon the principles previously explored in first half of the course―delving deeper into molecular mechanisms, reactions, and analytical techniques. Hands-on exercises and thoroughly-explained solutions further reinforce student comprehension of chemical concepts and organic principles. An indispensable supplement to the primary text, this resource covers aromatic compounds, infrared (IR) and nuclear magnetic resonance (NMR) spectroscopy, nucleophilic and electrophilic aromatic substitution, ketones and aldehydes, carboxylic acid derivatives, and much more.
Now includes detailed, fully-worked solutions to practice problems
Step-by-step explanations that strengthen problem-solving skills
Teaches students how to review principles, place them in the proper context, and focus on solving problems in a clear, accessible writing style
Helps students understand the principles of organic chemistry through effective study habits
Covers IR spectrum and proton NMR spectrum analysis methods
Examines enols and enolates, amines, and Diels-Alder reactions
Con

tents
Aromaticity
IR Spectroscopy
NMR Spectroscopy
Electrophilic Aromatic Substitution
Nucleophilic Aromatic Substitution
Ketones and Aldehydes
Carboxylic Acid Derivatives
Enols and Enolates
Amines
Diels–Alder Reactions
Free download Organic Chemistry as a Second Language Second Semester Topics (5th Edition) written by David Klein in pdf from following download links.
Follow these instructions to unlock the download links. Sometimes download link(s) is/are not visible on mobile devices, so if you face this issue, kindly do visit this page via laptop/desktop computer.
Password for Download Links: chemistry.com.pk
File Size: 36.2MB. Pages: 403. Download Instructions. Please read Disclaimer.
Don't forget to drop a comment below after downloading this book.
You may also like to free download
Free Download Hundreds of Best-Selling Chemistry Books from HERE.
P.S: If the download link(s) is/are not working, kindly drop a comment below, so we'll update the download link for you.
Happy downloading!