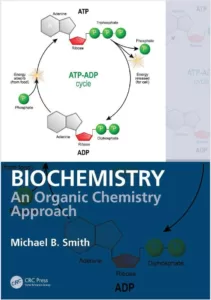 Free download Biochemistry – An Organic Chemistry Approach written by Michael B. Smith in pdf.
According to the author, "The focus of this book is to use organic chemistry principles and reactions to explain the fundamentals of biochemistry. The inspiration for this book came from teaching the second semester of organic chemistry with many students who were taking introductory biochemistry at the same time.
Many students commented that the things we were discussing in organic chemistry helped explain and better understand the concepts they were discussing or had discussed in biochemistry. On many occasions, topics were discussed in organic chemistry that had been covered previously in the biochemistry course.
An understanding of the organic chemistry reactions and mechanisms helped the students better understand many of those biochemical principles. It is hoped that understanding the organic chemistry foundations of biochemistry will provide similar assistance to students today.
Where feasible, organic chemical reactions such as those found in a typical undergraduate organic chemistry course are included in this book to bring their biological chemistry counterparts into perspective.
The first chapter is meant as a review of the fundamentals of an undergraduate organic chemistry course. For those who have not had a full organic chemistry course, this chapter will not suffice. This chapter is only intended as a supplement for an organic chemistry course and to function as a review for the biochemical principles to follow.
The next chapter discusses the importance of water in chemistry and also acid-base chemistry Elimination reactions such as E2 and E1 reactions are introduced here as well. The third chapter discusses nucleophilic substitution and chapter Chapter 4 discusses radicals and radical reactions. Dienes and conjugated systems are discussed in Chapter 5, along with sigmatropic rearrangements.
Enols and enolate reactions are discussed in the next chapter, including aldol-type reactions and Claisen condensation type reactions."
Con

tents
The Importance of Water in Biochemical Systems
Nucleophiles and Electrophiles
Radicals
Enolates and Enolate Anions
Enzymes
Lipids
Aromatic Compounds and Heterocyclic Compounds
Carbon–Metal Bonds, Chelating Agents and Coordination Complexes
Amino Acids
Peptides and Proteins
Carbohydrates
Glycosides
Nucleic Acids, Nucleosides and Nucleotides
Answers to Homework Problems
Free download Biochemistry – An Organic Chemistry Approach written by Michael B. Smith in pdf from following download links.
Kindly follow these instructions to unlock the download link(s). Sometime download link(s) is/are not visible on mobile devices, so if you face this issue, kindly do visit this page via laptop/desktop computer.
Password for Download Links: chemistry.com.pk
File Size: 37.5MB. Pages: 399. Download Instructions. Kindly read the disclaimer.
You can also buy Biochemistry – An Organic Chemistry Approach written by Michael B. Smith from Amazon by Clicking the image below.

You may also like to free download:
Free Download Hundreds of Best-Selling Chemistry Books from HERE.
P.S: If the download link(s) is/are not working, kindly drop a comment below, so we'll update the download link for you.
Happy downloading!