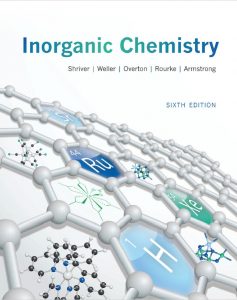 Free download Inorganic Chemistry (6th edition) written by Duward Shriver, Mark Weller, Tina Overton, Jonathan Rourke and Fraser Armstrong in pdf published in 2014.
As per authors, "Our aim in the sixth edition of Inorganic Chemistry is to provide a comprehensive and contemporary introduction to the diverse and fascinating subject of inorganic chemistry. Inorganic chemistry deals with the properties of all of the elements in the periodic table. These elements range from highly reactive metals, such as sodium, to noble metals, such as gold. The nonmetals include solids, liquids, and gases, and range from the aggressive oxidizing agent fluorine to unreactive gases such as helium. Although this variety and diversity are features of any study of inorganic chemistry, there are underlying patterns and trends which enrich and enhance our understanding of the discipline. These trends in reactivity, structure, and properties of the elements and their compounds provide an insight into the landscape of the periodic table and provide a foundation on which to build a detailed understanding."
As per a user review, "Very good book if you want a solid understanding of inorganic chemistry. I also have 'Inorganic Chemistry' 4th edition by Housecroft and Sharpe. While Housecroft is a comprehensive textbook on the subject, and I've certainly have acquired a robust and extensive grounding in many important topics, I love the setting, structure, and style of Inorganic Chemistry by Weller, 6th edition, much more. The way everything is set out and written, makes the subject much more fun and interesting, and I'm breezing through the topics because of this. If you want to succeed in inorganic chemistry, but enjoy it also, I would highly encourage everyone to obtain this book. By the way, the textbook I'm reviewing, is the cheaper international copy which was shipped from India. There is no colour and the pages are of cheaper quality. I've recently obtained the original version, and my enthusiasm for inorganic chemistry has quadrupled. Excellent paper quality, binding, and beautiful colour."
Con

tents

Part 1 Foundations
Atomic structure
Molecular structure and bonding
The structures of simple solids
Acids and bases
Oxidation and reduction
Molecular symmetry
An introduction to coordination compounds
Physical techniques in inorganic chemistry
Part 2 The elements and their compounds
Periodic trends
Hydrogen
The Group 1 elements
The Group 2 element
The Group 13 elements
The Group 14 elements
The Group 15 elements
The Group 16 elements
The Group 17 elements
The Group 18 elements
The d-block elements
d-Metal complexes: electronic structure and properties
Coordination chemistry: reactions of complexes
d-Metal organometallic chemistry
The f-block elements
Part 3 Frontiers
Materials chemistry and nanomaterials
Catalysis
Biological inorganic chemistry
Inorganic chemistry in medicine
Free download Inorganic Chemistry (6th edition) written by Duward Shriver, Mark Weller, Tina Overton, Jonathan Rourke and Fraser Armstrong in pdf from following download links.
Follow these instructions to unlock the download links. Sometimes download link(s) is/are not visible on mobile devices, so if you face this issue, kindly do visit this page via laptop/desktop computer.
Password for Download Links: chemistry.com.pk
File Size: 67.3MB. Pages: 901. Download Instructions. Please read Disclaimer.
Don't forget to drop a comment below after downloading this book.
You may also like to free download
Free Download Hundreds of Best-Selling Chemistry Books from HERE.
P.S: If the download link(s) is/are not working, kindly drop a comment below, so we'll update the download link for you.
Happy downloading!