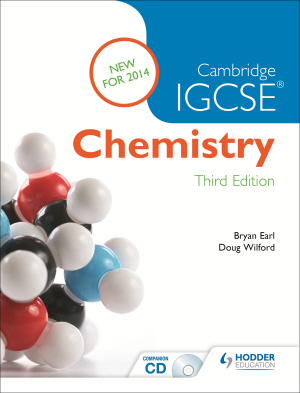 Free download Cambridge IGCSE Chemistry (3rd Edition) written by Bryan Earl and Doug Wilford. This textbook has been written to help you in your study of chemistry to Cambridge IGCSE. The different chapters in this book are split up into short topics. At the end of many of these topics are questions to test whether you have understood what you have read. At the end of each chapter there are larger study questions. Try to answer as many of the questions as you can as you come across them because asking and answering questions is at the heart of your study of chemistry.
Some questions in the style of Cambridge IGCSE examination papers are included at the end of the book. In many cases they are designed to test your ability to apply your chemical knowledge. The questions may provide certain facts and ask you to make an interpretation of them. In such cases, the factual information may not be covered in the text.
To help draw attention to the more important words, scientific terms are printed in bold the first time they are used. There are also checklists at the end of each chapter summarising the important points covered. As you read through the book, you will notice three sorts of shaded area in the text.
Chap

ters
The particulate nature of matter
Elements, compounds and experimental techniques
Atomic structure and bonding
Stoichiometry – chemical calculations
Electricity and chemistry
Chemical energetics
Chemical reactions
Acids, bases and salts
The Periodic Table
Metals
Air and water
Sulfur
Inorganic carbon chemistry
Organic chemistry 1
Organic chemistry 2
Experimental chemistry
Free download Cambridge IGCSE Chemistry by Bryan Earl and Doug Wilford in pdf from following download links.
Kindly follow the instructions to unlock the download link(s). Sometime download link(s) is/are not visible on mobile devices, so if you face this issue, kindly do visit this page via laptop/desktop computer.
File Size: 16.4 MB, Pages: 312. Download Instructions. Kindly read the disclaimer.
You may also like to free download:
Free Download Hundreds of Best-Selling Chemistry Books from HERE.
P.S: If the download link(s) is/are not working, kindly drop a comment below, so we'll update the download link for you.
Happy downloading!