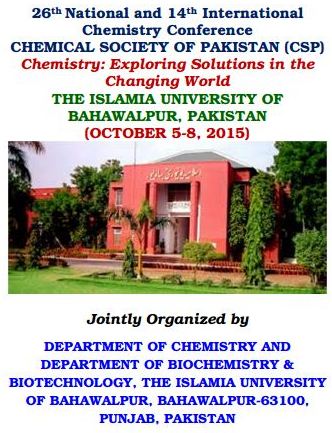 Department of Chemistry and Department of Biochemistry & Biotechnology, The Islamia University of Bahawalpur and the Chemical Society of Pakistan are jointly organizing 26th National and 14th International Chemistry Conference during October 05-08, 2015 at The Islamia University of Bahawalpur, Bahawalpur, Pakistan. The theme of conference is "Chemistry: Exploring Solutions in the Changing World."
14th International Chemistry Conference being held in the Islamia University of Bahawalpur (IUB), Pakistan, during October 5-8, 2015. Over 300 eminent scientists and researchers from all over the world are expected to participate in this important international event in the field of
Analytical/Radiation/Environmental Chemistry
Applied/Industrial/Polymer/Textile Chemistry
Bio/Nutritional/Food/Agricultural Chemistry
Inorganic/Nano/Nuclear Chemistry
Organic/Medicinal/Natural Product Chemistry
Physical/Material/Computational Chemistry
Sc

ope

This conference aims to bring together leading experts in various fields of Chemical & Biochemical Sciences from all around the world to share their expertise with the young and the emerging scientists and forge global partnerships for utilization of the relevant knowledge for the benefit of humanity.
Regis

tration

The registration fee includes entry to scientific lectures, poster sessions, exhibition, full set of abstracts, a copy of the conference program, daily refreshments (tea/coffee), conference banquet, cultural evening, welcome mixer and free transportation from hotels/guest houses to the venue. Accompanying persons can attend welcome mixer, conference banquet and cultural/musical evening programs. However, an early bird registration is recommended. Although a limited desk registration will be available, accommodation and entry to social events is not guaranteed. A special tour of some historical monuments situated in Bahawalpur and the nearby Cholistan Desert will be organized on payment basis.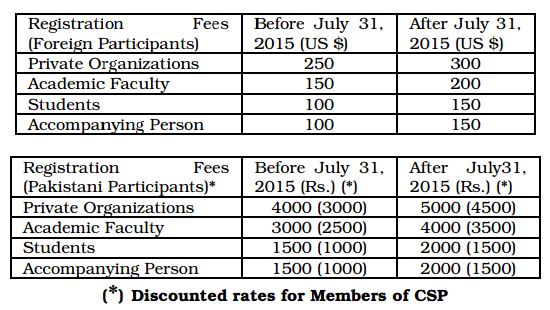 Important

Dates
Conference Date: October 05-08, 2015
Advance Registration: July 31, 2015
Accommodation Request: July 31, 2015
Abstracts (Oral & Poster): July 15, 2015
For more details visit here.
Event Name: 26th National and 14th International Chemistry Conference

Event Date: October 05-08, 2015

Event Venue: Baghdad ul Jadeed Campus, The Islamia University of Bahawalpur, Bahawalpur-63100, Pakistan
For

Correspondence

Professor Dr. Faiz ul Hassan Nasim
Chairman – Department of Chemistry,
Baghdad ul Jadeed Campus, The Islamia University of Bahawalpur, Bahawalpur-63100, Pakistan
Phone: 0092-62-9255473
Cell: 0092-345-9440679
Email: [email protected]
Webpage: http://www.iub.edu.pk/press/2015/jan/press_chemistry_15_7_15.php