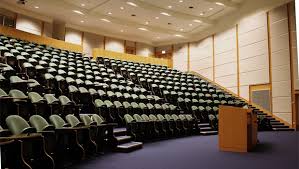 Virtual Education Project Pakistan (VEPP) in collaboration with the LEJ NationalScience Information Center, International Center for Chemical and Biological Sciences (ICCBS), University of Karachi is conducting an online course entitled "Entrepreneurship for Scientists" by Dr. Shahid Qureshi commencing from September 02, 2015. Lecture will be between 09:00 am to 12:00 noon on Monday, Wednesday and Friday through video conferencing facility in L.E.J National Science Information Center, ICCBS, University of Karachi.
The Higher Education Commission has initiated a National Video Conferencing Program in collaboration with the L.E.J. National Science Information Center (ICCBS), University of Karachi. The program focuses on lectures/courses being delivered by eminent scholars/researchers in the chosen disciplines, aimed at building concepts, enhancing critical thinking, and developing understanding of the subject at undergraduate, graduate, and doctoral levels. This program also includes skill development courses/modules, and research lectures in which cutting edge technologies/research results in various fields of higher education will be presented.
These lectures/courses are relayed nationwide in various Universities and other HEI through VEPP (Virtual Education Project Pakistan). Everyone eligible is welcome to register, attend and benefit from this important and innovative program.
Introduction

of the Speaker

Dr. Shahid Qureshi is an Assistant Professor and Program Director, Centre for Entrepreneurial Development (CED), Institute of Business Administration (IBA) Karachi.

He was graduated as a mechanical engineer from the University of Engineering and Technology Lahore in 1990. In 1993, was awarded the Government of Holland scholarship to pursue masters in Industrial Engineering and Management at Asian Institute of Technology, Bangkok, Thailand. Later on, obtained an MBA degree from the Lahore University of Management Sciences (LUMS). In 2006, received the German (DAAD) scholarship to pursue PhD from the Department of Marketing at the Faculty of Business Administration at the Technical University of Berlin, Germany.

Over the years entrepreneurship and strategic management became his passion. In the year 2004, Shahid teamed with one of the leading entrepreneurs of the region to develop a business school in central Punjab. The target market of the business school comprises thousands of family businesses famous for engineering, ceramics products, sports goods, surgical instruments and many other leather products. The MBA with a concentration in entrepreneurship was developed with the help of the local entrepreneurs and the business community and the chambers of commerce. The venture turned out to be a success and contributed in the development and the uplift of the region. Dr. Shahid's research interests are in the following areas and theories:
Resource-based view of the firm, capability development, competence-based management theory, entrepreneurship and strategy, technology entrepreneurship, entrepreneurship and the marketing interface. He has been conducting quantitative research using various tools i.e. Multiple Regression Analysis, Discriminant Analysis and Structural Equation Modeling using AMOS, LISREAL, PLS etc.
Introduction

to the Course: Entrepreneurship for Scientists

This 1 credit hour course is designed for Ph.D. scholars and researchers. Entrepreneurship is considered the liberal arts of business education. Entrepreneurship means to keep an open mind, think outside the box, re-evaluate your own views of entrepreneurship, and intellectually challenge your peers. Entrepreneurship is a way of thinking and acting. The principal focus will be on the creation of new ventures, the ways that they come into being, and factors associated with their success.

The objective is to have a greater understanding of the entrepreneurial process – a process of opportunity recognition, resource marshalling, and team building driven by communication, creativity and leadership. When process and passion collide, the seemingly unconnected become connected. New ventures are born, stagnating businesses grow, and failing businesses are reinvented.
Course

Content
The Entrepreneurial Mind for an Entrepreneurial World
The Opportunity
The Founder and the Team
Marketing and Financing Entrepreneurial Ventures
Startup and beyond
Pro

gram

Date: 2nd – 16th September, 2015
Days: Monday, Wednesday, and Friday
Timing: 9:00 am-12:00 noon
Venue: L.E.J. National Science Information Center, and video conferencing rooms of participating Universities.
How to Register
For registration, kindly contact VEPP Focal Person in your University. The LEJ Center will issue a certificate (1 Credit hour) to successful participants.
Enrollment

through Virtual Education Project Pakistan
Relevant departments at participating institutions will offer the course to their own students and enroll eligible students in the course.
The department will make the schedule of class meetings known and ensure the delivery of lectures with the help of university Technical Coordinators.
The department will keep attendance records of the registered participants.
The department will conduct exams/tests and grade tests according to keys provided by the lecturers.
Departments will accept results and grant credit for the course to qualified registered students.
Departments will coordinate closely with focal persons to carry out all these activities and arrange for an on-line Students Evaluation of Teachers (SET).
For

Correspondence

Dr. Sheeba Naz
Manager
Virtual Education Project Pakistan (VEPP)
Office: 0092-21-111-222-292 Ext: 274
Webpage: www.iccs.edu