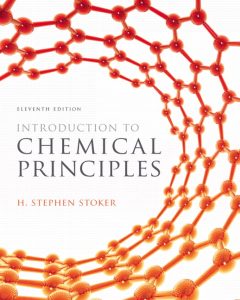 Free download Introduction to Chemical Principles (11th edition) written by H. Stephen Stoker in pdf.
Introduction to Chemical Principles is a text for students who have had little or no previous instruction in chemistry' or whose instruction was so long ago that a thorough review is needed. The text's purpose is to give students the background (and confidence) needed for a subsequent successful encounter with a main sequence, college-level, general chemistry course.
Many texts written for preparatory' chemistry courses are simply watered-down versions of general chemistry' texts: They' treat almost all topics found in the general chemistry' course, but at a superficial level. Introduction to Chemical Principles does not fit this mold. My philosophy' is that it is better to treat fewer topics extensively and have the student understand those topics in greater depth. I resisted the very' real temptation to include lots of additional concepts in this new edition. Instead, my focus for this edition was on rewriting selected portions to improve the clarity of presentation.
"Chemical Insights" are used to bridge the gap between mathematics and chemistry. This new "insight" feature, which is appended to many of the worked-out example problems in the text that involve calculations, focuses on the element or compound that is the subject of the calculation. These insights give information on the subject element's/compound's occurrence, its properties and uses, its relationship to the environment, its relationship to living systems (biochemistry'), and so on. It is easy for students to become so involved in the mathematics of problem solving that they completely' forget about the "realness" of the type of matter that is the subject of the calculation. There are 85 total insights which address this "realness" issue.
Con

tents
Numbers From Measurements
Unit Systems and Dimensional Analysis
Basic Concepts About Matter
Atoms, Molecules, and Subatomic Particles
Electronic Structure and Chemical Periodicity
Chemical Bonds
Chemical Calculations: The Mole Concept and Chemical Formulas
Chemical Calculations Involving Chemical Equations
States of Matter
Gas Laws
Solutions
Acids, Bases, and Salts
Chemical Equations: Net Ionic and Oxidation-Reduction
Reaction Rates and Chemical Equilibrium
Free download Introduction to Chemical Principles (11th edition) written by H. Stephen Stoker in pdf from following download links.
Follow these instructions to unlock the download links. Sometimes download link(s) is/are not visible on mobile devices, so if you face this issue, kindly do visit this page via laptop/desktop computer.
Password for Download Links: chemistry.com.pk
File Size: 30.3 MB. Pages: 796. Download Instructions. Please read Disclaimer.
You may also like to free download
Free Download Hundreds of Best-Selling Chemistry Books from HERE.
P.S: If the download link(s) is/are not working, kindly drop a comment below, so we'll update the download link for you.
Happy downloading!