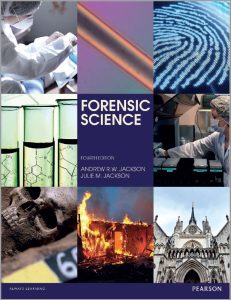 Free download Forensic Science (4th edition) written by Andrew R.W. Jackson and Julie M. Jackson in pdf.
Welcome to the fourth edition of Forensic Science. The previous edition of this book was published in 2011. Since then, there have been significant changes in the organisation and accreditation of forensic science in the United Kingdom and the relevant parts of Chapters 1 and 2 have been revised accordingly. Also since the last edition of this book, in England and Wales, new procedures have been introduced concerning the reporting of the outcomes of forensic examinations. These new procedures, known as Streamlined Forensic Reporting, are described in Section 14.2 of Chapter 14 .
Emerging three-dimensional imaging technologies that have the potential to change how crime scenes are recorded are introduced in a new section of Chapter 2 (see Section 2.3.4 ). In recent years, there has been a recognition of the importance of minimising bias in the way in which forensic scientists establish in their minds the facts and opinions that they believe to be true.
This recognition is reflected in this edition by the inclusion of material on minimising cognitive bias (Chapter 1 , Box 1.1). The importance of contemporaneous note-taking in this and other regards is reflected in a new box on this topic ( Chapter 14 , Box 14.6). The ACE-V method can also provide safeguards against such bias and its use in the examination of fingermark evidence is explored in Box 4.1 of Chapter 4.
There have been developments in the field of DNA profiling, most notably the introduction of DNA17 – which is detailed in Chapter 6. In different contexts, forensic scientists are asked to provide investigative leads and opinion based on evidence evaluation. These two roles require quite different ways of thinking. In Section 13.7 of Chapter 13 , this new edition provides an account of logical frameworks that can help bring clarity to these contrasting thought processes.
Con

tents
The crime scene
Trace and contact evidence, Part I: Recoverable materials
Trace and contact evidence, Part II: Fingerprints and other marks and impressions
The examination of body fluids, including bloodstain pattern analysis
The analysis of deoxyribonucleic acid (DNA): DNA profiling
Forensic toxicology and drugs of abuse
Questioned documents
Firearms
Fires
The recovery and forensic examination of human remains
Statistics and the analysis, interpretation and evaluation of evidence
Forensic science in court
Free download Forensic Science (4th edition) written by Andrew R.W. Jackson and Julie M. Jackson in pdf from following download links.
Kindly follow these instructions to unlock the download link(s). Sometime download link(s) is/are not visible on mobile devices, so if you face this issue, kindly do visit this page via laptop/desktop computer.
Password for Download Links: chemistry.com.pk
File Size: 13.6 MB. Pages: 549. Download Instructions. Kindly read the disclaimer.
You can also buy Forensic Science (4th edition) written by Andrew R.W. Jackson and Julie M. Jackson from Amazon by Clicking the image below.

You may also like to free download
Free Download Hundreds of Best-Selling Chemistry Books from HERE.
P.S: If the download link(s) is/are not working, kindly drop a comment below, so we'll update the download link for you.
Happy downloading!