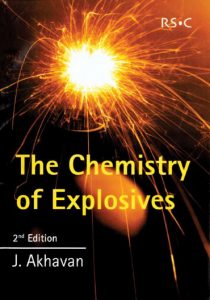 Free download The Chemistry of Explosives (second edition) written by Jacqueline Akhavan (Department of Environmental and Ordnance Systems, Cranfield University, Royal Military College of Science, Swindon) and published by The Royal Society of Chemistry in 2004.
This book outlines the basic principles needed to understand the mechanism of explosions by chemical explosives. The history, theory and chemical types of explosives are introduced, providing the reader with information on the physical parameters of primary and secondary explosives. Thermodynamics, enthalpy, free energy and gas equations are covered together with examples of calculations, leading to the power and temperature of explosions. A very brief introduction to propellants and pyrotechnics is given, more information on these types of explosives should be found from other sources. This second edition introduces the subject of Insensitive Munitions (IM) and the concept of explosive waste recovery. Developments in explosive crystals and formulations have also been updated. This book is aimed primarily at 'A' level students and new graduates who have not previously studied explosive materials, but it should prove useful to others as well.
Con

tents
Introduction to Explosives
Classification of Explosive Materials
Combustion, Deflagration and Detonation
Ignition, Initiation and Thermal Decomposition
Thermochemistry of Explosives
Equilibria and Kinetics of Explosive Reactions
Manufacture of Explosives
Introduction to Propellants and Pyrotechnics
Free download The Chemistry of Explosives written by Jacqueline Akhavan in pdf. from following download link(s). Follow the instructions to unlock the download link(s).
[sociallocker id=1417]
[/sociallocker]
File Size: 3.33MB, Pages: 196. Kindly read the disclaimer.
You may also like to download Organic Chemistry of Explosives by Dr. Jai Prakash Agrawal and Dr. Robert Dale Hodgson.
P.S: If the download link(s) is/or not working, kindly drop a comment below so we could update the download link for you.
Happy downloading 🙂