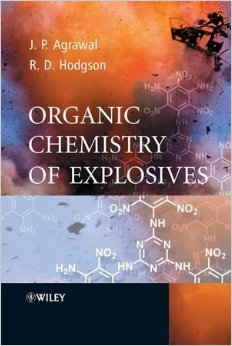 Free download Organic Chemistry of Explosives written by Dr. Jai Prakash Agrawal and Dr. Robert Dale Hodgson, published by John Wiley and Sons Inc. in 2007.
According to Dr. Philip F. Pagoria; the Organic Chemistry of Explosives by J. P. Agrawal and R. D. Hodgson is a comprehensive study of the various methods to synthesize the different classes of energetic compounds along with methods to synthesize the various explosophoric groups that predominate the field. It is intended to read like a tutorial on energetic compound synthesis, providing a historical perspective of the various synthetic methods used for energetic compound synthesis, along with enough details and discussion to understand the nuances of energetic compound synthesis.
The Organic Chemistry of Explosives also provides a perspective on the possible applications of various energetic compounds, why they are interesting as explosives or propellant ingredients, and what advantages and disadvantages they might have compared to other energetic compounds. Finally, it provides insight into the many factors an energetic compound synthetic chemist must consider when designing new target compounds and presents the various criteria (performance, ease of synthesis, cost, sensitivity to external stimuli, and chemical and thermal stability) that define whether a given energetic compound will be useful to the energetic materials community.
Content

of Organic Chemistry of Explosives
Synthetic Routes to Aliphatic C-Nitro Functionality
Energetic Compounds I: Polynitropolycycloalkanes
Synthetic Routes to Nitrate Esters
Synthetic Routes to Aromatic C-Nitro Compounds
Synthetic Routes to N-Nitro Functionality
Energetic Compounds II: Nitramines and Their Derivatives
Energetic Compounds III: N-Heterocycles
Miscellaneous Explosive Compounds
Dinitrogen Pentoxide – An Eco-Friendly Nitrating Agent
Free download Organic Chemistry of Explosives in pdf. written by Dr. Jai Prakash Agrawal and Dr. Robert Dale Hodgson from following download links.
Kindly follow these instructions to unlock the download link(s). Sometime download link(s) is/are not visible on mobile devices, so if you face this issue, kindly do visit this page via laptop/desktop computer.
Password for Download Links: chemistry.com.pk
File Size: 4.16 MB. Pages: 417. Download Instructions. Kindly read the disclaimer.
You can also buy Organic Chemistry of Explosives By Dr. Jai Prakash Agrawal and Dr. Robert Dale Hodgson from Amazon by Clicking the image below.

You may also like to free download:
Free Download Hundreds of Best-Selling Chemistry Books from HERE.
P.S: If the download link(s) is/are not working, kindly drop a comment below, so we'll update the download link for you.
Happy downloading!