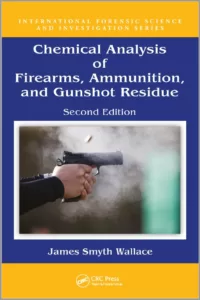 Free download Chemical Analysis of Firearms, Ammunition, and Gunshot Residue (2nd edition) authored by James Smyth Wallace in pdf.
There are numerous detailed books on firearms available for enthusiasts, the vast majority of the books concentrating on the physical aspects of firearms. Very little has been published on the chemical aspects of firearms and ammunition, and what has been published is sparse and fragmented in the literature. One of the reasons for this is that manufacturers are reluctant to release in-depth details about their products for obvious commercial reasons.
The first part of the book is an attempt to amalgamate such chemical information as is available in the literature into one publication and also to summarize the history of firearms and ammunition that is of particular relevance to the development of modern firearms and ammunition (Chapters 2 through 15).
The remainder of the book details chemical aspects of forensic firearms casework, with particular emphasis on the detection of gunshot residues (GSR)/firearm discharge residues (FDR)/cartridge discharge residues (CDR) on a suspect's skin and clothing surfaces. The development of an analytical method to routinely examine samples from terrorist suspects for both firearms and explosives residues is described.
Sources include gun books, textbooks, gun magazines, scientific papers, technical reports, manufacturer's literature, newspaper articles, private communications, personal observations, and research conducted by author.
Con

tents

Section I: Introduction

Section II: Historical Aspects of Firearms and Ammunition
History of Gunpowder
History of Ignition Systems
History of Bullets
History of Ammunition
History of Firearms
Section III: Chemical Aspects of Firearms and Ammunition
Cartridge Cases
Primer Cups (Caps)
Priming Compositions
Propellants
Projectiles
Complementary Ammunition Components
Caseless Ammunition
Blank Ammunition
Firearm Construction Materials
Section IV: Firearm Discharge Residue
Firearm Discharge Residue Detection Techniques
Properties of Firearm Discharge Residue
Section V: Experimental
Scenes of Crime Experiences
Objectives, Sampling Procedures, Instrumentation, and Conditions
Particle Classification Scheme
Casework Related Tests
Analysis of Ammunition
Ammunition Containing Mercury
Lead Free Ammunition
Section VI: Suspect Processing Procedures
Firearm Discharge Residue Sampling
Sampling of Skin and Clothing Surfaces for Firearm Discharge Residue
Development of a Method for Organic Firearm Discharge Residue Detection
Consequences of Incorrect GSR Evidence
Free download Chemical Analysis of Firearms, Ammunition, and Gunshot Residue (2nd edition) authored by James Smyth Wallace in pdf from following download links.
Kindly follow these instructions to unlock the download link(s). Sometime download link(s) is/are not visible on mobile devices, so if you face this issue, kindly do visit this page via laptop/desktop computer.
Password for Download Links: chemistry.com.pk
File Size: 7.73 MB. Pages: 357. Download Instructions. Please read Disclaimer.
You may also like to free download:
Free download hundreds of Best-Selling Chemistry Books in pdf from HERE.
P.S: If the download link(s) is/are not working, kindly drop a comment below, so we'll update the download link for you.
Happy downloading!