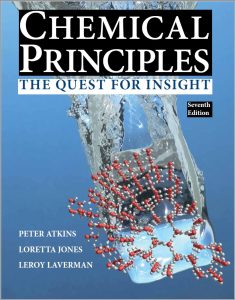 Free download Chemical Principles: The Quest for Insight (7th edition) authored by Peter Atkins, Loretta Jones and Leroy Laverman in pdf.
The central theme of this text is to challenge students to think and question, while providing a sound foundation in the principles of chemistry. Students of all levels also benefit from assistance in learning how to think, pose questions, and approach problems. We show students how to build models, refine them systematically in the light of experimental input, and express them quantitatively. To that end, Chemical Principles: The Quest for Insight, Seventh Edition, aims to build understanding and offer students a wide array of pedagogical support.
In this seventh edition, we have implemented a new organization. The content is presented as a series of 85 short Topics arranged into 11 thematic groups called Focuses. Our aim is twofold: to present reader and instructor with maximum flexibility and digestibility. We had a particular structure in mind when writing this edition, but instructors might have different ideas.
Although the content is arranged along the lines of an atoms first approach, the division of Topics allows the instructor not only to tailor the text within the time constraints of the course, as it will be much easier to omit selected Topics, but also to take a path through the text that matches individual teaching and learning objectives. We have carefully avoided language that suggests the Topics should be read in the order they appear in the book.
The student should also find the Topics easy to absorb and review, as each Topic is organized into smaller, more manageable sections. As such, since the Focuses are of very different lengths, instructors should target Topics, and not necessarily entire Focuses, when assigning content in their syllabi.
Con

tents
Focus 1: Atoms
Focus 2: Molecules
Focus 3: States of Matter
Focus 4: Thermodynamics
Focus 5: Equilibrium
Focus 6: Reactions
Focus 7: Kinetics
Focus 8: The Main-Group Elements
Focus 9: The d-Block Elements
Focus 10: Nuclear Chemistry
Focus 11: Organic Chemistry
Free download Chemical Principles: The Quest for Insight (7th edition) authored by Peter Atkins, Loretta Jones and Leroy Laverman in pdf from following download links.
Follow these instructions to unlock the download links. Sometimes download link(s) is/are not visible on mobile devices, so if you face this issue, kindly do visit this page via laptop/desktop computer.
[sociallocker id=1417
/sociallocker]
File Size: 239 MB. Pages: 1097. Download Instructions. Please read Disclaimer.
You may also like to free download Fundamental of Analytical Chemistry (10th edition) authored by Douglas A. Skoog, Donald M. West, F. James Holler and Stanley R. Crouch in pdf.
Free download hundreds of chemistry books in pdf from HERE.
P.S: If the download link(s) is/are not working, kindly drop a comment below, so we'll update the download link for you.
Happy downloading!