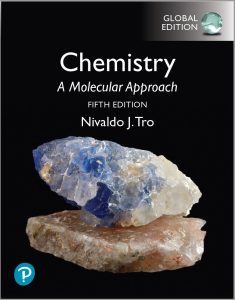 Free download Chemistry A Molecular Approach (5th Global Edition) written by Nivaldo J. Tro in pdf.
The book has been extensively revised and contains more small changes than can be detailed here. The most significant changes to the book and its supplements are listed below:
NEW IN-CHAPTER QUESTIONS WITH FEEDBACK I have added approximately 67 new Conceptual Connection questions throughout the book and have changed the format to multiple choice (with wrong answer feedback in Mastering Chemistry). Each chapter now has 10–12 of these assignable questions. These questions transform the reading process from passive to active and hold students accountable for reading assignments.
NEW MISSED THIS? FEATURE I have added a new feature called MISSED THIS? to the Self-Assessment Quizzes and to the Problems by Topic section of the end-of chapter problems. This feature lists the resources that students can use to learn how to answer the question or solve the problem. The resources include chapter sections to read, Key Concept Videos (KCVs) to watch, and Interactive Worked Examples (IWEs) to view. Students often try to solve an assigned question or problem before doing any reading or reviewing; they seek resources only after they have missed the question or problem. The MISSED THIS? feature guides them to reliable resources that provide just-in-time instruction.
NEW FOR PRACTICE FEEDBACK I have enhanced 64 of the in-chapter For Practice problems (which immediately follow an in-chapter worked example) with feedback that can be accessed through Mastering Chemistry.
REVISED ART PROGRAM The art program has been extensively revised. Navigation of the more complex figures has been reoriented to track from left to right, and many figure captions have been broken up and have been moved into the image itself as an "author voice" that explains the image and guides the reader through it.
Con

tents
Matter, Measurement, and Problem Solving
Molecules and Compounds
Chemical Reactions and Chemical Quantities
Introduction to Solutions and Aqueous Reactions
Gases
Thermochemistry
The Quantum-Mechanical Model of the Atom
Periodic Properties of the Elements
Chemical Bonding I: The Lewis Model
Chemical Bonding II: Molecular Shapes, Valence Bond Theory, and Molecular Orbital Theory
Liquids, Solids, and Intermolecular Forces
Solids and Modern Materials
Solutions
Chemical Kinetics
Chemical Equilibrium
Acids and Bases
Aqueous Ionic Equilibrium
Free Energy and Thermodynamics
Electrochemistry
Radioactivity and Nuclear Chemistry
Biochemistry
Chemistry of the Nonmetals
Metals and Metallurgy
Transition Metals and Coordination Compounds
Free download Chemistry A Molecular Approach (5th Global Edition) written by Nivaldo J. Tro in pdf from following download links.
Kindly follow these instructions to unlock the download link(s). Sometime download link(s) is/are not visible on mobile devices, so if you face this issue, kindly do visit this page via laptop/desktop computer.
Password for Download Links: chemistry.com.pk
File Size: 208 MB. Pages: 1323. Download Instructions. Kindly read the disclaimer.
You can also buy Chemistry A Molecular Approach (5th Global Edition) By Nivaldo J. Tro from Amazon by Clicking the image below.

You may also like to free download
Free Download Hundreds of Best-Selling Chemistry Books from HERE.
P.S: If the download link(s) is/are not working, kindly drop a comment below, so we'll update the download link for you.
Happy downloading!