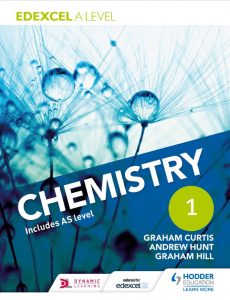 Free download Edexcel A Level Chemistry Book 1 By Graham Curtis, Andrew Hunt and Graham Hill in pdf.
As per writers. "this book is an extensively revised, restructured and updated version of Edexcel Chemistry for AS by Graham Hill and Andrew Hunt. We have relied heavily on the contribution that Graham Hill made to the original book and are most grateful that he has encouraged us to build on his work.
Practical work is of particular importance in A Level chemistry. Each of the Core Practicals in the specifi cation features in the main chapters of this book with an outline of the procedure and data for you to analyse and interpret. Throughout the text there are references to Practical skills sheets which can be accessed via www.hoddereducation.co.uk/EdexcelAChemistry1. Sheets 1 to 3 provide general guidance, and the remainder provide more detailed guidance for the Core Practicals.
1. Practical skills for advanced chemistry
2. Assessing hazards and risks
3. Researching and referencing
4. Making measurements
5. Identifying errors and estimating uncertainties
6. Measuring chemical amounts by titration
7. Analysing inorganic unknowns
8. Synthesising organic liquids
9. Analysing organic unknowns
10. Measuring enthalpy changes
You will need to refer to the Edexcel Data booklet when answering some of the questions in this book. This will help you to become familiar with the booklet. This is important because you will need to use the booklet to find information when answering some questions in the examinations. You can download the Data booklet from the Edexcel website. It is part of the specification. The booklet includes the version of the periodic table that you use in the examinations.
The content is clearly explained but it is very hard to find solutions to the problems, exercises. The various apps and references to websites seem not to work. Disappointing common theme in UK products, loads of explanation with few questions to practice on and answers nowhere to find.
Con

tents
Atomic structure and the periodic table
Bonding and structure
Redox I
Inorganic chemistry and the periodic table
Formulae, equations and amounts of substance
Introduction to organic chemistry
Hydrocarbons: alkanes and alkenes
Halogenoalkanes and alcohols
Modern analytical techniques I
Energetics I
Kinetics I
Equilibrium
Free download Edexcel A Level Chemistry Book 1 By Graham Curtis, Andrew Hunt and Graham Hill in pdf from following download links.
Follow these instructions to unlock the download links. Sometimes download link(s) is/are not visible on mobile devices, so if you face this issue, kindly do visit this page via laptop/desktop computer.
Password for Download Links: chemistry.com.pk
File Size: 20.9MB. Pages: 321. Download Instructions. Please read Disclaimer.
Don't forget to drop a comment below after downloading this book.
You may also like to free download
Free Download Hundreds of Best-Selling Chemistry Books from HERE.
P.S: If the download link(s) is/are not working, kindly drop a comment below, so we'll update the download link for you.
Happy downloading!