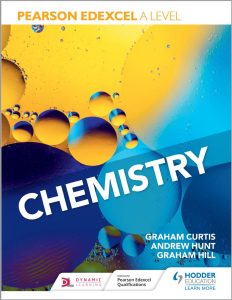 Free download Pearson Edexcel A Level Chemistry for Year 1 and Year 2 authored by Graham Curtis, Andrew Hunt and Graham Hill in pdf.
Welcome to the Pearson Edexcel A level Chemistry Student's Book! This book covers Year 1 and Year 2 of the Pearson Edexcel A level Chemistry specification.
This book is an extensively revised, restructured, updated and combined version of Pearson Edexcel Chemistry for AS and Pearson Edexcel Chemistry for A2 by Graham Hill and Andrew Hunt. We have relied heavily on the contributions that Graham Hill made to the original books and are most grateful that he has encouraged us to build on his work.
At the end of each chapter we have added a 'Chapter Summary'. This contains a brief bulleted list of the main points covered in the Chapter to help with your revision.
These practical-based activities will help consolidate your learning and test your practical skills. Pearson Edexcel's Core practicals are clearly highlighted. In this edition the authors describe many important experimental procedures to conform to recent changes in the A level curriculum.
Teachers should be aware that, although there is enough information to inform students of techniques and many observations for exam purposes, there is not enough information for teachers to replicate the experiments themselves, or with students, without recourse to CLEAPSS Hazcards or Laboratory worksheets which have undergone a risk assessment procedure.
You will find Exam practice questions at the end of every chapter. These follow the style of the different types of questions you might see in your examination and are colour coded to highlight the level of difficulty. Quality of extended response questions are marked with an asterisk (*).
Con

tents
Bonding and structure
Redox I
Inorganic chemistry and the Periodic Table
Formulae, equations and amounts of substance
Hydrocarbons: alkanes and alkenes
Halogenoalkanes and alcohols
Modern analytical techniques I
Energetics I
Kinetics I
Equilibrium I
Equilibrium II
Acid–base equilibria
Lattice energy
Entropy
Redox II
Transition metals
Kinetics II
Chirality
Carbonyl compounds
Carboxylic acids and their derivatives
Arenes – benzene compounds
Amines, amides, amino acids and proteins
Organic synthesis
Free download Pearson Edexcel A Level Chemistry for Year 1 and Year 2 authored by Graham Curtis, Andrew Hunt and Graham Hill in pdf from following download links.
Follow these instructions to unlock the download links. Sometimes download link(s) is/are not visible on mobile devices, so if you face this issue, kindly do visit this page via laptop/desktop computer.
Password for Download Links: chemistry.com.pk
File Size: 22.3 MB. Pages: 667. Download Instructions. Please read Disclaimer.
You may also like to free download
Free Download Hundreds of Best-Selling Chemistry Books from HERE.
P.S: If the download link(s) is/are not working, kindly drop a comment below, so we'll update the download link for you.
Happy downloading!