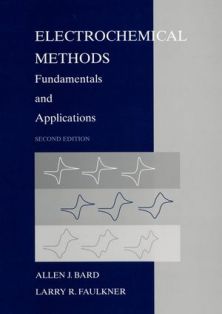 Electrochemical Methods: Fundamentals and Applications is written by Allen J. Bard and Larry R. Faulkner (Department of Chemistry and Biochemistry, University of Texas at Austin) and published by John Wiley and Sons Inc. in 2001.
Table of Contents
Introduction and Overview of Electrode Processes
Potentials and Thermodynamics of Cells
Kinetics of Electrode Reactions
Mass Transfer by Migration and Diffusion
Basic Potential Step Methods
Potential Sweep Methods
Polarography and Pulse Voltammetry
Controlled-Current Techniques
Methods Involving Forced Convection—Hydrodynamic Methods
Techniques Based on Concepts of Impedance
Bulk Electrolysis Methods
Electrode Reactions with Coupled Homogeneous Chemical Reactions
Double-Layer Structure and Adsorption
Electroactive Layers and Modified Electrodes
Electrochemical Instrumentation
Scanning Probe Techniques
Spectroelectrochemistry and other Coupled Characterization Methods
Photoelectrochemistry and Electrogenerated Chemiluminescence
Free download Electrochemical Methods Fundamentals and Applications is written by Allen J. Bard and Larry R. Faulkner from following external download link. We've tested this link and found free of viruses.

Size: 23.2 MB. Kindly read Disclaimer first.
Download Instructions
After you click on Download Button, your download will start automatically. If it doesn't start then follow these instructions: After opening of download link press ctrl + S to save this book OR click on file menu a drop down menu will open then click on Download to save this book.