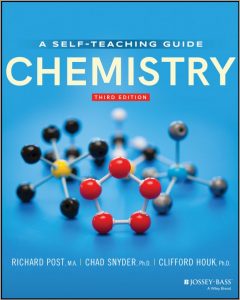 Free download CHEMISTRY: A Self-Teaching Guide (3rd edition) written by Richard Post, Chad A. Snyder and Clifford C. Houk in pdf.
This book has been written to meet such needs. It can stand alone as a "first look" at chemistry or may be used as a supplement to any of the many excellent textbooks or methods of instruction currently in use. The material presumes no previous exposure to chemistry and requires only simple algebra.
There are no secrets. Each chapter includes an introductory statement, a list of objectives, and the main teaching section, which consists of frames of tutorial material with constant practice exercises. Each chapter closes with a self-test. You can use this self-test to assess whether you have mastered the chapter well enough to continue and to identify weaknesses that require additional study. Finally, some chapters include an end-of-chapter or transitional story connecting the material to a relevant topic in chemistry.
The topics presented are usually covered early in a general introductory course. The third edition also contains a new chapter on organic chemistry consistent with the material found in general chemistry textbooks. We have minimized "heavy" theoretical discussions, while emphasizing descriptive and practical concepts. There is enough theoretical explanation to provide a basis for understanding the material but not so much that you will get bogged down trying to work through the book.
Con

tents
Atomic Structure, Periodic Table, Electronic Structure
Atomic Weights
Periodic Properties and Chemical Bonding
Molecular and Formula Weights
Nomenclature
Chemical Equations
Mole Concept
Gases
Solids
Liquids
Solutions and Their Properties
Chemical Equilibrium
Acids and Bases
Organic Chemistry
Free download CHEMISTRY: A Self-Teaching Guide (3rd edition) written by Richard Post, Chad A. Snyder and Clifford C. Houk in pdf from following download links.
Kindly follow the instructions to unlock the download link(s). Sometime download link(s) is/are not visible on mobile devices, so if you face this issue, kindly do visit this page via laptop/desktop computer.
Password for Download Links: chemistry.com.pk
File Size: 58.3 MB. Pages: 432. Download Instructions. Kindly read the disclaimer.
You may also like to free download
Free Download Hundreds of Best-Selling Chemistry Books from HERE.
P.S: If the download link(s) is/are not working, kindly drop a comment below, so we'll update the download link for you.
Happy downloading!