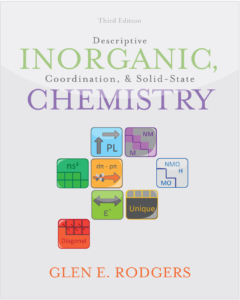 Free download Descriptive Inorganic, Coordination, and Solid-State Chemistry (3rd edition) written by Glen E. Rodgers in pdf.
According to the writer, "Descriptive Inorganic, Coordination, and Solid-State Chemistry is the third edition of a brief and streamlined presentation of these three important areas of inorganic chemistry. The first edition (1994) was also available in a Spanish translation (1995).
Th e second edition (2002) was also available in a Korean translation (2008) and as an "India edition" (Inorganic and Solid-State Chemistry, first reprinted in 2009). The book is designed for the student who has completed a standard introductory course. It actively relies on the material mastered through the great efforts of teachers and students alike in the lectures, recitations, small-group activities, laboratory periods, review sessions, late-night study groups, in- and out-of-office discussions, and textbooks typically encountered in such introductory courses.
The primary goal of this book is not to lay out the latest results in inorganic chemistry but rather to present a significant portion of this subdiscipline to new students in new ways. Designed and written for students rather than faculty (who, after all, already know most of this material), this book includes detailed physical and chemical explanations tailored specifically for the sophomore-student audience of the type that I enjoyed teaching for 35 years.
I hope that these readers, like most of my own students, will find the conversational prose easy and enjoyable to read and understand. I further hope that these readers will soon come to realize that behind these paragraphs and chapters is a live human being who loves the challenge, lore, and relevance of this discipline called inorganic chemistry and who has tried, with some degree of success, to demonstrate to his readers why it is that he finds his chosen discipline so fascinating."
Con

tents

Part I: Coordination Chemistry
Structures of Coordination Compounds
Bonding Theories for Coordination Compounds
Rates and Mechanisms of Reactions of Coordination Compounds
Applications of Coordination Compounds
Part II: Solid-State Chemistry
Solid-State Structures
Solid-State Energetics
Part III: Descriptive Chemistry of the Representative Elements
Building a Network of Ideas to Make Sense of the Periodic Table
Hydrogen and Hydrides
Oxygen, Aqueous Solutions, and the Acid–Base Character of Oxides and Hydroxides
Group 1A: The Alkali Metals
Group 2A: The Alkaline-Earth Metals
The Group 3A Elements
The Group 4A Elements
Group 5A: The Pnicogens
Sulfur, Selenium, Tellurium, and Polonium
Group 7A: The Halogens
Group 8A: The Noble Gases
Free download Descriptive Inorganic, Coordination, and Solid-State Chemistry (3rd edition) written by Glen E. Rodgers in pdf from following download links.
Kindly follow these instructions to unlock the download link(s). Sometime download link(s) is/are not visible on mobile devices, so if you face this issue, kindly do visit this page via laptop/desktop computer.
Password for Download Links: chemistry.com.pk
File Size: 11.1 MB. Pages: 668. Download Instructions. Kindly read the disclaimer.
You may also like to free download:
Free Download Hundreds of Best-Selling Chemistry Books from HERE.
P.S: If the download link(s) is/are not working, kindly drop a comment below, so we'll update the download link for you.
Happy downloading!