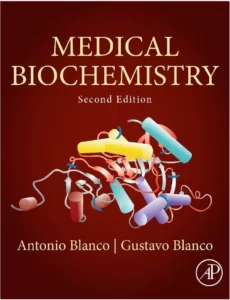 Free download Medical Biochemistry (2nd edition) written by Antonio Blanco and Gustavo Blanco in pdf.
According to the authors, "This is the second edition of the English version of "Quımica Biologica," a textbook published in Spanish by El Ateneo, Buenos Aires, Argentina.
When first conceived, this book was primarily intended to provide introductory information in the area of biochemistry to premedical and medical students. Over the years, the book developed and has become a source of information for advanced medical and graduate students. In addition, the book should also be useful to students in the allied health professions.
In this edition, we have updated and expanded on different topics, reorganized contents to achieve a better organization of the concepts, and added more links to clinical scenarios that result from biochemical alterations. Our goal has continued to focus on maintaining the textbook concise and to deliver information in the simplest manner possible.
To achieve this, besides improving the text, we have used multiple colors in all figures, added new figures, and included additional tables that summarize the main concepts in an easy manner. We believe that the book presents in a straightforward manner a comprehensive view of the different biochemical processes that occur in the human body in health and disease."
Con

tents
Water
Proteins
Carbohydrates
Lipids
Nucleic Acids
Elements of Thermodynamics and Biochemical Kinetics
Enzymes
Biological Oxidations: Bioenergetics
Antioxidants
Membranes
Digestion—Absorption
Metabolism
Carbohydrate Metabolism
Lipid Metabolism
Amino Acid Metabolism
Heme Metabolism
Purine and Pyrimidine Metabolism
Integration and Regulation of Metabolism
Metabolism in Some Tissues
The Genetic Information (II)
Regulation of Gene Expression
Posttranslational Protein Modifications
Biochemical Basis of Endocrinology (I) Receptors and Signal Transduction
Biochemical Basis of Endocrinology (II) Hormones and Other Chemical Intermediates
Vitamins
Water and Acid-Base Balance
Essential Minerals
Molecular Basis of Immunity
Hemostasis
Cell Death
Free download Medical Biochemistry (2nd edition) written by Antonio Blanco and Gustavo Blanco in pdf from following download links.
Kindly follow these instructions to unlock the download link(s). Sometime download link(s) is/are not visible on mobile devices, so if you face this issue, kindly do visit this page via laptop/desktop computer.
Password for Download Links: chemistry.com.pk
File Size: 18.0 MB. Pages: 910. Download Instructions. Kindly read the disclaimer.
You can also buy Medical Biochemistry (2nd edition) written by Antonio Blanco and Gustavo Blanco from Amazon by Clicking the image below.

You may also like to free download:
Free Download Hundreds of Best-Selling Chemistry Books from HERE.
P.S: If the download link(s) is/are not working, kindly drop a comment below, so we'll update the download link for you.
Happy downloading!