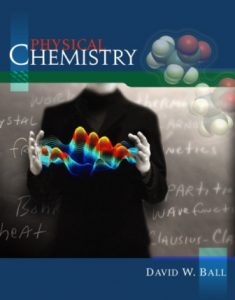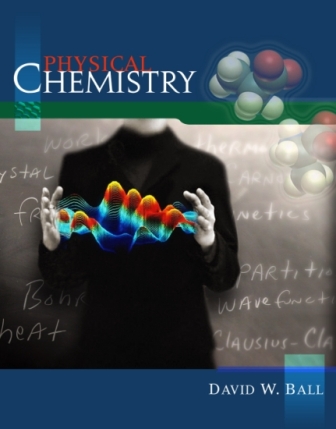 Free download Physical Chemistry written by David W. Ball (Cleveland State University) in pdf. published by Brooks/Cole in 2011.
According to the author; Physical Chemistry is meant to be a textbook for the year-long, calculus-based physical chemistry course for science and engineering majors. It is meant to be used in its entirety, and it does not contain a lot of information (found in many other physical chemistry books) that undergraduate courses do not cover. There is some focus on mathematical manipulations because many students have forgotten how to apply calculus or could use the review.
Each chapter opens with a synopsis of what the chapter will cover. In other texts, the student reads along blindly, not knowing where all the derivations and equations are leading. Indeed, other texts have a summary at the end of the chapters. In this text, a summary is given at the beginning of the chapter so the students can see where they are going and why. Numerous examples are sprinkled throughout all of the chapters, and there is an emphasis on the units in a problem, which are just as important as the numbers.
Con

tents
Gases and the Zeroth Law of Thermodynamics
The First Law of Thermodynamics
The Second and Third Laws of Thermodynamics
Free Energy and Chemical Potential
Introduction to Chemical Equilibrium
Equilibria in Single-Component Systems
Equilibria in Multiple-Component Systems
Electrochemistry and Ionic Solutions
Pre-Quantum Mechanics
Introduction to Quantum Mechanics
Quantum Mechanics: Model Systems and the Hydrogen Atom
Atoms and Molecules
Introduction to Symmetry in Quantum Mechanics
Rotational and Vibrational Spectroscopy
Introduction to Electronic Spectroscopy and Structure
Introduction to Magnetic Spectroscopy
Statistical Thermodynamics: Introduction
More Statistical Thermodynamics
The Kinetic Theory of Gases
Kinetics
The Solid State: Crystals
Surfaces
Free download Physical Chemistry by David W. Ball in pdf. from following download links.
Kindly follow the instructions to unlock the download link(s). Sometime download link(s) is/are not visible on mobile devices, so if you face this issue, kindly do visit this page via laptop/desktop computer.
Password for Download Links: chemistry.com.pk
File Size: 7.80 MB. Pages: 857. Download Instructions. Kindly read the disclaimer.
You may also like to download
Free Download Hundreds of Best-Selling Chemistry Books from HERE.
P.S: If the download link(s) is/or not working, kindly drop a comment below so we could update the download link for you.
Happy downloading 🙂