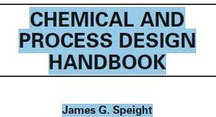 Chemical and Process Design Handbook is written by James G. Speight and published by McGRAW-HILL in 2002.
About Author
James G. Speight is the author/editor/compiler of more than 20 books and bibliographies related to fossil fuel processing and environmental issues. As a result of his work, Dr. Speight was awarded the Diploma of Honor, National Petroleum Engineering Society, for Outstanding Contributions in the Petroleum Industry in 1995 and the Gold Medal of Russian Academy of Natural Sciences for Outstanding Work. He was also awarded the Degree of Doctor of Science from the Russian Petroleum Research Institute in St. Petersburg.
This handbook consist of 2 parts
Reaction Types: In this part major chemical reaction and their mechanisms are described.
Manufacture of Chemicals: In this part preparation of hundred of chemicals described.
Free download Chemical and Process Design Handbook by James G. Speight by clicking on following download button. This is an external download link and we found it free from viruses.

Size: 2.18 MB
Download Instruction
After opening download link press ctrl + S to save this book OR click on file menu a drop down menu will open than click on Download to save this book.