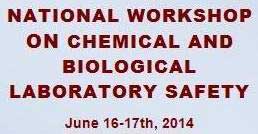 Hussain Ebrahim Jamal (HEJ) Research Institute of Chemistry, International Center for Chemical and Biological Sciences (ICCBS), University of Karachi is organizing Two-Day National Workshop on Chemical and Biological Laboratory Safety during 16-17 June 2014 at HEJ Research Institute of Chemistry, ICCBS, University of Karachi with the Collaboration of National Academy of Young Scientists (NAYS) Pakistan.
Registration
Senior scientists, young researchers, M.Phil and Ph.D scholars from all Pakistani universities are invited to attend this workshop.
Registration Fee
Before 25 May 2014
Students: Rs. 500
Faculty: Rs. 1000
Industry: Rs. 1500
After 25 May 2014
Students: Rs. 800
Faculty: Rs. 1200
Industry: Rs. 2000
On-site Reg. Fee
Students: Rs. 1000
Faculty: Rs. 1500
Industry: Rs. 2500
Update
Now workshop will be on September 23-24, 2014 and Last Date of Registration is September 10, 2014.
Event Title: National Workshop on Chemical and Biological Laboratory Safety

Date: 23 – 24 September, 2014

Venue: HEJ Research Institute of Chemistry, International Center for Chemical and Biological Sciences (ICCBS), University of Karachi, University Road, Karachi-75270, Pakistan
Correspondence Contact Details
Dr. Muhammad Raza Shah
(Chair Organizing Committee)
HEJ Research Institute of Chemistry, International Center for Chemical and Biological Sciences (ICCBS), University of Karachi, University Road, Karachi-75270, Pakistan
Phone: 0092-21-34824930, 0092-21-34819012 and (UAN) 0092-21-111-222-292 Ext. 233 and 157
Fax: 0092-21-34819018 and 0092-21-99261713
Email: [email protected]
Dr. Huma Ikram
(Chief Organizer and NAYS university coordinator)
Department of Biochemistry, University of Karachi.
Email: [email protected]
Tabinda Salman
(Organizing Secretary and NAYS Project Coordinator)
Dr. Panjawani Center for Molecular Medicines and Drug Research, International Center for Chemical and Biological Sciences (ICCBS), University of Karachi, University Road, Karachi-75270, Pakistan
Email: [email protected] and [email protected]
Webpages: http://www.nays.com.pk and http://www.iccs.edu
Facebook Event Page: https://www.facebook.com/events/781255741885401/