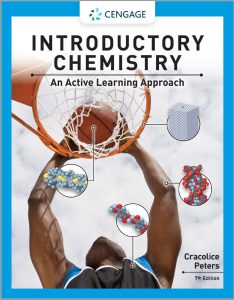 Free download Introductory Chemistry – An Active Learning Approach (7th edition) authored by Mark S. Cracolice & Edward I. Peters in pdf.
The seventh edition of Introductory Chemistry: An Active Learning Approach is written for a college-level introductory or preparatory chemistry course for students who next will take a college general chemistry course. It is also appropriate for the first-term general portion of a two-term general, organic, and biological chemistry (GOB) course. The textbook is written with the assumption that this is a student's first chemistry course, or if there has been a prior chemistry course, it has not adequately prepared the student for general or GOB chemistry.
Introductory Chemistry was written with the following broad-based goals. Upon completing the course while using this textbook, our aim is that students will be able to:
1. Read, write, and talk about chemistry, using a basic chemical vocabulary
2. Write routine chemical formulas and equations
3. Set up and solve chemistry problems
4. Think about fundamental chemistry on an atomic or molecular level and visualize what happens in a chemical change
The An Active Learning Approach portion of the title of the textbook refers to what general cognitive science and applied chemistry education research indicate is the best curricular approach to facilitate construction of procedural knowledge.
Con

tents
Matter and Energy
Measurement and Chemical Calculations
Introduction to Gases
Atomic Theory: The Nuclear Model of the Atom
Chemical Formula Relationships
Chemical Reactions
Chemical Change
Quantity Relationships in Chemical Reactions
Atomic Theory: The Quantum Model of the Atom
Chemical Bonding
Structure and Shape
The Ideal Gas Law and Its Applications
Gases, Liquids, and Solids
Solutions
Acid–Base (Proton Transfer) Reactions
Chemical Equilibrium
Oxidation–Reduction (Electron Transfer) Reactions
Nuclear Chemistry
Biochemistry
Chemical Calculations
The SI System Of Units
Free download Introductory Chemistry – An Active Learning Approach (7th edition) authored by Mark S. Cracolice & Edward I. Peters in pdf from following download links.
Follow these instructions to unlock the download links. Sometimes download link(s) is/are not visible on mobile devices, so if you face this issue, kindly do visit this page via laptop/desktop computer.
Password for Download Links: chemistry.com.pk
File Size: 53.4 MB. Pages: 978. Download Instructions. Please read Disclaimer.
You may also like to free download
Free Download Hundreds of Best-Selling Chemistry Books from HERE.
P.S: If the download link(s) is/are not working, kindly drop a comment below, so we'll update the download link for you.
Happy downloading!