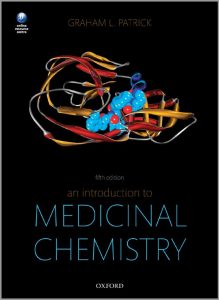 Free download An Introduction to Medicinal Chemistry (5th edition) written by Graham L. Patrick in pdf.
Th is text is aimed at undergraduates and postgraduates who have a basic grounding in chemistry and are studying a module or degree in medicinal chemistry. It attempts to convey, in a readable and interesting style, an understanding about drug design and the molecular mechanisms by which drugs act in the body. In so doing, it highlights the importance of medicinal chemistry in all our lives and the fascination of working in a field which overlaps the disciplines of chemistry, biochemistry, physiology, microbiology, cell biology, and pharmacology. Consequently, the book is of particular interest to students who might be considering a future career in the pharmaceutical industry.
Following the success of the first four editions, as well as useful feedback from readers, there has been some re-organization and updating of chapters, especially those
in Part E. Chapters have been modified, as appropriate, to reflect contemporary topics and teaching methods.
This includes:
• new coverage of 99 drugs not featured in the previous edition;
• six new boxes, covering topics such 'Cyclodextrins as drug scavengers', 'Th e structure-based drug design of crizotinib', and 'Designing a non-steroidal glucocorticoid agonist';
• a new case study on steroidal anti-inflammatory agents;
• over 25 new sections, providing additional depth in subject areas including 'Tethers and anchors' and 'Short-acting β-blockers';
• additional end-of-chapter questions;
• current reference lists.
Con

tents

PART A Drug targets
Protein structure and function
Enzymes: structure and function
Receptors: structure and function
Receptors and signal transduction
Nucleic acids: structure and function
PART B Pharmacodynamics and pharmacokinetics
Enzymes as drug targets
Receptors as drug targets
Nucleic acids as drug targets
Miscellaneous drug targets
Pharmacokinetics and related topics
Case study 1: Statins 178
PART C Drug discovery, design, and development
Drug discovery: finding a lead
Drug design: optimizing target interactions
Drug design: optimizing access to the target
Getting the drug to market
Case study 2: The design of angiotensin-converting enzyme (ACE) inhibitors
Case study 3: Artemisinin and related antimalarial drugs
The design of oxamniquine
PART D Tools of the trade
Combinatorial and parallel synthesis
Computers in medicinal chemistry
Quantitative structure–activity relationships (QSAR)
Case study 5: Design of a thymidylate synthase inhibitor
PART E Selected topics in medicinal chemistry
Antibacterial agents
Antiviral agents
Anticancer agents
Cholinergics, anticholinergics, and anticholinesterases
Drugs acting on the adrenergic nervous system
The opioid analgesics
Anti-ulcer agents
Case study 6: Steroidal anti-inflammatory agents
Case Study 7: Current research into antidepressant agents
Free download An Introduction to Medicinal Chemistry (5th edition) written by Graham L. Patrick in pdf from following download links.
Kindly follow these instructions to unlock the download link(s). Sometime download link(s) is/are not visible on mobile devices, so if you face this issue, kindly do visit this page via laptop/desktop computer.
Password for Download Links: chemistry.com.pk
File Size: 21.4 MB. Pages: 814. Download Instructions. Kindly read the disclaimer.
You can also buy An Introduction to Medicinal Chemistry (5th edition) written by Graham L. Patrick from Amazon by Clicking the image below.

You may also like to free download
Free Download Hundreds of Best-Selling Chemistry Books from HERE.
P.S: If the download link(s) is/are not working, kindly drop a comment below, so we'll update the download link for you.
Happy downloading!