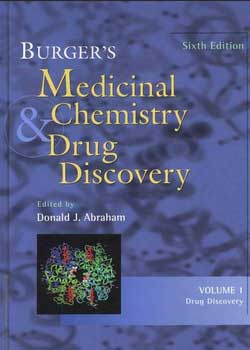 Burger's Medicinal Chemistry and Drug Discovery (Sixth Edition) Volume 1: Drug Discovery is edited by Donald J. Abraham (Department of Medicinal Chemistry, School of Pharmacy, Virginia Commonwealth University, Richmond, Virginia 23284) and published by Wiley Interscience; a John Wiley and Sons Inc., Publication.
This edition of Burger's Medicinal Chemistry and Drug Discovery is designated as a memorial edition.
Table of contents if sixth edition – volume 1
History of quantitative structure-actmty relationships
Recent trends in quantitative structure-actmty relationships
Molecular modeling in drug design
Drug-target binding forces: advances in force field approaches
Combinatorial library design, molecular similarity and diversity applications
Virtual screening
Docking and scoring functions/virtual screening
Bioinformatics: its role in drug discovery
Chemical information computing systems in drug discovery
Structure-based drug design
X-Ray crystallography in drug discovery
NMR and drug discovery
Mass spectrometry and drug discovery
Electron cryomicroscopy of biological macromolecules
Peptidomimetics for drug design
Analog design
Approaches to the rational design of enzyme inhibitors
Chirality and biological activity
Structural concepts in the prediction of toxicity of therapeutical agents
Natural products as leads for new pharmaceuticals
Free download Burger's Medicinal Chemistry and Drug Discovery (Sixth Edition) Volume 1: Drug Discovery by clicking on download button. This external download link is tested manually and found safe.

How to Download?
After clicking on download button a new window of Google Drive will open, press download button and then click on download anyway button, your download will start.
Read Disclaimer