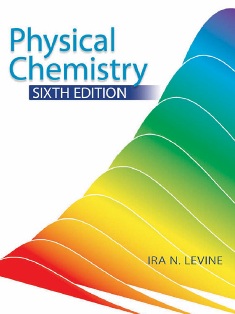 Free Download Physical Chemistry (6th edition) written by Ira N. Levine (Chemistry Department, Brooklyn College, City University of New York, Brooklyn, New York) and published by McGraw-Hill in 2009.
This textbook is for the standard undergraduate course in physical chemistry. To make the presentation easy to follow, the book gives careful definitions and explanations of concepts, full details of most derivations, and reviews of relevant topics in mathematics and physics.
One aim of the new edition is to avoid the increase in size that usually occurs with each new edition and that eventually produces an unwieldy text. To this end, Chapter 13 on surfaces was dropped. Some of this chapter was put in the chapters on phase equilibrium (Chapter 7) and reaction kinetics (Chapter 16), and the rest was omitted. Sections 4.2 (thermodynamic properties of nonequilibrium systems), 10.5 (models for nonelectrolyte activity coefficients), 17.19 (nuclear decay), and 21.15 (photoelectron spectroscopy) were deleted. Some material formerly in these sections is now in the problems. Several other sections were shortened.
Con

tents
Thermodynamics
The first law of thermodynamics
The second law of thermodynamics
Material equilibrium
Standard thermodynamics functions of reaction
Reaction equilibrium in ideal gas mixtures
One-component phase equilibrium and surfaces
Real gases
Solutions
Nonideal solutions
Reaction equilibrium in nonideal systems
Multicomponent phase equilibrium
Electrochemical systems
Kinetic theory of gases
Transport processes
Reaction kinetics
Quantum mechanics
Atomic structure
Molecular electronic structure
Spectroscopy and photochemistry
Statistical mechanics
Theories of reaction rates
Solids and liquids
Free download Physical Chemistry (6th edition) by Ira N. Levine in pdf.
[sociallocker id=1417]
[/sociallocker]
File Size: 13.59 MB. Pages: 1013
P.S: If the download link(s) is/are not working, kindly drop a comment below, so we'll update the download link for you.
Happy downloading :p