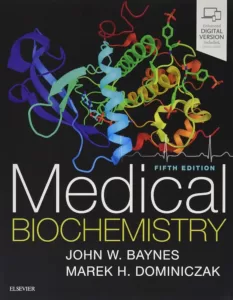 Free download Medical Biochemistry (5th edition) authored by John W. Baynes and Marek H. Dominiczak in pdf.
According to the authors, "Medical Biochemistry has now served the global medical student community for 19 years. In the 5th edition our aim remains, as before, to provide a biochemical foundation for the study of clinical medicine—with down-to-earth practical relevance.
Each edition has provided a snapshot of a constantly changing field. Perhaps the most exciting sign of progress is the ever-increasing relevance of basic science to the practice of medicine, expressed in new drugs targeting biochemical regulatory and metabolic pathways and in new concepts that both change and supplement our approaches to everyday clinical challenges.
Apart from describing the core of basic science, we continue to emphasize the contribution of biochemistry to the understanding of major global health problems such as diabetes mellitus, obesity, malnutrition, and atherosclerotic cardiovascular disease. As before, we remain convinced that the biochemistry of water, electrolyte, and acid–base balance is as important for future clinicians as are the key metabolic pathways and thus deserves more emphasis in the biochemistry curriculum.
In addition to substantial updates, we have changed the structure of the book, aiming to provide a clearer perspective on the entire field. The details of this reorganization are summarized in Chapter 1.
We have also updated literature and web references throughout the textbook. To facilitate familiarity with new terminologies and acronyms currently abundant in the scientific slang, in this edition we have provided an easily accessible list of abbreviations in each chapter. We have also expanded the index to provide more comprehensive access to topics discussed in the text."
Con

tents

Section 1: Introduction

Section 2: Molecules and Cells
Amino Acids and Proteins
Carbohydrates and Lipids
Membranes and Transport
Section 3: Metabolism
Hemoglobin and oxygen transport
Catalytic Proteins – Enzymes
Vitamins and Minerals
Bioenergetics and Oxidative Metabolism
Anaerobic metabolism of glucose carbohydrates in the red blood cell
The Tricarboxylic Acid Cycle
Oxidative Metabolism of Lipids in Liver and Muscle
Biosynthesis and Storage of Carbohydrates in Liver and Muscle
Biosynthesis and Storage of Fatty Acids
Biosynthesis of Cholesterol and Steroids
Biosynthesis and Degradation of Amino Acids
Biosynthesis and Degradation of Nucleotides
Complex Carbohydrates: Glycoproteins
Complex Lipids
The Extracellular Matrix
Section 4: Molecular basis of inheritance
Deoxyribonucleic Acid
Ribonucleic Acid
Protein Synthesis and Turnover
Regulation of Gene Expression: Basic Mechanisms
Genomics, Proteomics and Metabolomics
Section 5: Signalling and Growth
Membrane Receptors and Signal Transduction
Neurotransmitters
Biochemical Endocrinology
Cellular Homeostasis: Cell Growth and Cancer
Aging
Section 6: Fuels Nutrients and Minerals
Digestion and Absorption of Nutrients: The Gastrointestinal Tract
Glucose Homeostasis and Fuel Metabolism: Diabetes Mellitus
"Nutrients and diets"
Lipoprotein Metabolism and Atherogenesis
Section 7: Specialized Tissues and Their Function
The Role of Liver in Metabolism
Water and Electrolytes Homeostasis
Lung and the Regulation of Hydrogen Ion Concentration (Acid-Base Balance)
Muscle: Energy Metabolism and Contraction Exercise
Bone Metabolism and Calcium Homeostasis
Neurochemistry
Section 8: Blood and Immunity. Clinical Biochemistry
Blood and Plasma Proteins
Hemostasis and Thrombosis
Oxidative stress and inflammation
The Immune Response: Innate and adaptive immunity
Free download Medical Biochemistry (5th edition) authored by John W. Baynes and Marek H. Dominiczak in pdf from following download links.
Kindly follow these instructions to unlock the download link(s). Sometime download link(s) is/are not visible on mobile devices, so if you face this issue, kindly do visit this page via laptop/desktop computer.
Password for Download Links: chemistry.com.pk
File Size: 13.1 MB. Pages: 698. Download Instructions. Kindly read the disclaimer.
You can also buy Medical Biochemistry (5th edition) authored by John W. Baynes and Marek H. Dominiczak from Amazon by clicking the image below.
You may also like to free download:
Free Download Hundreds of Best-Selling Chemistry Books from HERE.
P.S: If the download link(s) is/are not working, kindly drop a comment below, so we'll update the download link for you.
Happy downloading!