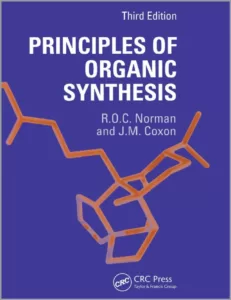 Free download Principles of Organic Synthesis (3rd edition) authored by Richard Norman and J.M. Coxon in pdf.
The purpose of this book is to show how these principles can be applied both to acquiring a knowledge of organic synthetic processes and to planning the construction of organic compounds. It is designed for those who have had no more than a brief introduction to organic chemistry.
Nor is it intended to be comprehensive; for example, the vast body of evidence on which reaction mechanisms are based is not included, nor are experimental details given. The object has been to convey a broad understanding rather than to produce a reference text.
The book is in two parts. In Part I, reaction mechanism is set in its wider context of the basic principles and concepts that underlie chemical reactions: chemical thermodynamics, structural theory, theories of reaction kinetics, mechanism itself, and stereochemistry.
In Part II, these principles and concepts are applied to the formation of particular types of bonds, groupings, and compounds: for example, how small molecules can be built on to give larger ones by the construction of new carbon-carbon bonds, or how one functional group can be transformed into another.
The final chapter in Part II describes the planning and detailed execution of the multi-step syntheses of several complex naturally occurring compounds.
Con

tents

Part I
Molecular Structure
Chemical Kinetics
Mechanism
Stereochemistry
Part II
Formation of Carbon-Carbon Bonds: Organometallic Reagents
Formation of Aliphatic Carbon-Carbon Bonds: Base-Catalyzed Reactions
Formation of Aliphatic Carbon-Carbon Bonds: Acid-Catalyzed Reactions
Pericyclic Reactions
Formation of Carbon-Nitrogen Bonds
Electrophilic Aromatic Substitution
Nucleophilic Aromatic Substitution
Aromatic Diazonium Salts
Molecular Rearrangements
Reagents Containing Phosphorus, Sulfur, Silicon or Boron
Photochemical Reactions
Free-Radical Reactions
Organotransition Metal Reagents
Oxidation
Reduction
The Synthesis of Five- and Six-Membered Heterocyclic Compounds
The Syntheses of Some Naturally Occurring Compounds
Free download Principles of Organic Synthesis (3rd edition) authored by Richard Norman and J.M. Coxon in pdf from following download links.
Kindly follow these instructions to unlock the download link(s). Sometime download link(s) is/are not visible on mobile devices, so if you face this issue, kindly do visit this page via laptop/desktop computer.
Password for Download Links: chemistry.com.pk
File Size: 28.0 MB. Pages: 828. Download Instructions. Please read Disclaimer.
You may also like to free download:
Free download hundreds of Best- Selling Chemistry Books from HERE.
P.S: If the download link(s) is/are not working, kindly drop a comment below, so we'll update the download link for you.
Happy downloading!