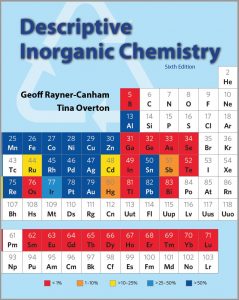 Free download Descriptive Inorganic Chemistry (6th edition) written by Geoff Rayner-Canham and Tina Overton in pdf.
The role of inorganic chemistry in our lives is increasing. Thus, the sixth edition of Descriptive Inorganic Chemistry now has the following improvements.
Context: Each chapter opens with a Context, an aspect of inorganic chemistry which impinges on us in one way or another. Each of these contexts is intended to be thought-provoking and also ties in with an aspect of the chapter content.
Worked Examples: Sprinkled throughout the chapters, we have added Worked Examples, so that students can see how content relates to principles.
New Discoveries: In addition to some reorganization of content and an increased use of subheadings, we have added new discoveries to show that descriptive inorganic chemistry is alive and well as the twenty-first century progresses.
Predominance Diagrams: To provide a visual display of which species of an element or ion are present under specific conditions, comparative predominance diagrams have been added, where appropriate.
Con

tents
The Electronic Structure of the Atom: A Review
Covalent Bonding and Molecular Spectroscopy
Metallic Bonding and Alloys
Ionic Bonding and Solid State Structures
Why Compounds Exist—Inorganic Thermodynamics
Solvent Systems and Acid-Base Behavior
Oxidation and Reduction
Periodic Patterns
Hydrogen
The Group 1 Elements: The Alkali Metals
The Group 2 Elements: The Alkaline Earth Metals
The Group 13 Elements
The Group 14 Elements
The Group 15 Elements: The Pnictogens
The Group 16 Elements: The Chalcogens
The Group 17 Elements: The Halogens
The Group 18 Elements: The Noble Gases
The 3d Transition Metals
The 4d and 5d Transition Metals
The Group 12 Elements
Organometallic Chemistry
The Rare Earth, Actinoid, and Postactinoid Elements
Free download Descriptive Inorganic Chemistry (6th edition) written by Geoff Rayner-Canham and Tina Overton in pdf from following download links.
Kindly follow the instructions to unlock the download link(s). Sometime download link(s) is/are not visible on mobile devices, so if you face this issue, kindly do visit this page via laptop/desktop computer.
Password for Download Links: chemistry.com.pk
File Size: 14.6 MB. Pages: 764. Download Instructions. Kindly read the disclaimer.
You can also buy Descriptive Inorganic Chemistry (6th Edition) By Geoff Rayner-Canham and Tina Overton from Amazon by Clicking the image below.

You may also like to free download
P.S: If the download link(s) is/are not working, kindly drop a comment below, so we'll update the download link for you.
Happy downloading!