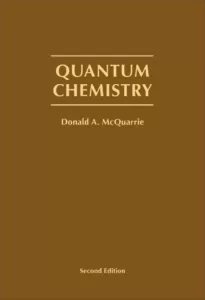 Free download Quantum Chemistry (2nd edition) authored by Donald A. McQuarrie in pdf.
According to the author, "The first edition of this book was written in the early 1980s. At that time molecular calculations were pretty much in the province of professional quantum chemists. An enormous change has occurred since that time. The explosive growth and availability of computer power has placed in the hands of undergraduate students the ability to carry out molecular calculations routinely that were unimaginable twenty years ago.
This new edition incorporates this ability by discussing and encouraging the use of quantum chemistry programs such as Gaussian and WebMO, which most chemistry departments have access to. Not only can undergraduates do quantum chemical calculations nowadays, there is even a program in North Carolina, North Carolina High School Computational Chemistry Server that encourages high school sh1dents to do so.
In addition to these quanh1m chemistry programs, there are a number of general mathematical programs such as MathCad or Mathematica that make it easy to do calculations routinely that were formerly a drudgery. These programs not only perform numerical calculations, but they can also perform algebraic manipulations as well.
They are relatively easy to learn and use and every serious scientific student should know how to use one of them. They allow you to focus on the underlying physical ideas and free you from getting bogged down in algebra. They also allow you to explore the properties of equations by varying parameters and plotting the results. There are a number of problems in this edition that require the use of one of these programs."
Con

tents
The Dawn of the Quantum Theory
Complex Numbers
The Classical Wave Equation
Probability and Statistics
The Schrodinger Equation and a Particle in a Box
Vectors
The Postulates and General Principles of Quantum Mechanics
Series and Limits
The Harmonic Oscillator and Vibrational Spectroscopy
Spherical Coordinates
Determinants
The Hydrogen Atom
Matrices
Approximation Methods
Matrix Eigenvalue Problems
Many-Electron Atoms
The Chemical Bond: One- and Two-Electron Molecules
Qualitative Theory of Chemical Bonding
The Hartree-Fock-Roothaan Method
Free download Quantum Chemistry (2nd edition) authored by Donald A. McQuarrie in pdf from following download links.
Kindly follow these instructions to unlock the download link(s). Sometime download link(s) is/are not visible on mobile devices, so if you face this issue, kindly do visit this page via laptop/desktop computer.
Password for Download Links: chemistry.com.pk
File Size: 74.1 MB. Pages: 704. Download Instructions. Kindly read the disclaimer.
You can also buy Quantum Chemistry (2nd edition) authored by Donald A. McQuarrie from Amazon by Clicking the image below.
You may also like to free download:
Free Download Hundreds of Best-Selling Chemistry Books from HERE.
P.S: If the download link(s) is/are not working, kindly drop a comment below, so we'll update the download link for you.
Happy downloading!