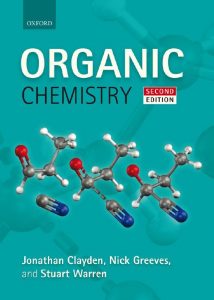 Free download Oxford Organic Chemistry (2nd edition) written by Jonathan Clayden, Nick Greeves and Stuart Warren in pdf published in 2012.
As per authors, In the decade since the publication of the first edition of this book it has become clear that some aspects of our original approach were in need of revision, some chapters in need of updating with material which has gained in significance over those years, and others in need of shortening. We have taken into account a consistent criticism from readers that the early chapters of the first edition were too detailed for new students, and have made substantial changes to the material in Chapters 4, 8, and 12, shifting the emphasis towards explanation and away from detail more suitably found in specialised texts.
Every chapter has been rewritten to improve clarity and new explanations and examples have been used widely. The style, location, and content of the spectroscopy chapters (3, 13, 18, and 31) have been revised to strengthen the links with material appearing nearby in the book. Concepts such as conjugate addition and regioselectivity, which previously lacked coherent presentation, now have their own chapters (22 and 24). In some sections of the first edition, groups of chapters were used to present related material: these chapter groups have now been condensed—so, for example, Chapters 25 and 26 on enolate chemistry replace four previous chapters, Chapters 31 and 32 on cyclic molecules replace three chapters, Chapter 36 on rearrangements and fragmentations replaces two chapters, and Chapter 42 on the organic chemistry of life replaces three chapters (the former versions of which are available online).
Some fields have inevitably advanced considerably in the last 10 years: the chapters on organometallic chemistry (40) and asymmetric synthesis (41) have received the most extensive revision, and are now placed consecutively to allow the essential role of organometallic catalysis in asymmetric synthesis to come to the fore. Throughout the book, new examples, especially from the recent literature of drug synthesis, have been used to illustrate the reactions being discussed.
Con

tents
What is organic chemistry?
Determining organic structures
Structure of molecules
Nucleophilic addition to the carbonyl group
Delocalization and conjugation
Acidity, basicity, and pKa
Using organometallic reagents to make C–C bonds
Nucleophilic substitution at the carbonyl group
Nucleophilic substitution at C=O with loss of carbonyl oxygen
Equilibria, rates, and mechanisms 1H NMR: Proton nuclear magnetic resonance
Stereochemistry
Nucleophilic substitution at saturated carbon
Conformational analysis
Elimination reactions
Review of spectroscopic methods
Electrophilic addition to alkenes
Formation and reactions of enols and enolates
Electrophilic aromatic substitution
Conjugate addition and nucleophilic aromatic substitution
Chemoselectivity and protecting groups
Regioselectivity
Alkylation of enolates
Reactions of enolates with carbonyl compounds: the aldol and Claisen reactions
Sulfur, silicon, and phosphorus in organic chemistry
Retrosynthetic analysis
Aromatic heterocycles 1: reactions
Aromatic heterocycles 2: synthesis
Saturated heterocycles and stereoelectronics
Stereoselectivity in cyclic molecules
Diastereoselectivity
Pericyclic reactions 1: cycloadditions
Pericyclic reactions 2: sigmatropic and electrocyclic reactions
Participation, rearrangement, and fragmentation
Radical reactions
Synthesis and reactions of carbenes
Determining reaction mechanisms
Organometallic chemistry
Asymmetric synthesis
Organic chemistry of life
Organic chemistry today
Free download Oxford Organic Chemistry (2nd edition) by Jonathan Clayden, Nick Greeves and Stuart Warren in pdf from following download links.
Follow these instructions to unlock the download links. Sometimes download link(s) is/are not visible on mobile devices, so if you face this issue, kindly do visit this page via laptop/desktop computer.
Password for Download Links: chemistry.com.pk
File Size: 13.5MB. Pages: 1265. Download Instructions. Please read Disclaimer.
You can also buy Oxford Organic Chemistry (2nd edition) by Jonathan Clayden, Nick Greeves and Stuart Warren from Amazon by Clicking the image below.

Don't forget to drop a comment below after downloading this book.
You may also like to free download
Free Download Hundreds of Best-Selling Chemistry Books from HERE.
P.S: If the download link(s) is/are not working, kindly drop a comment below, so we'll update the download link for you.
Happy downloading!