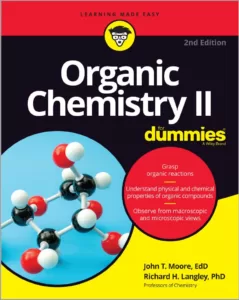 Free download Organic Chemistry II For Dummies (2nd edition) authored by John T. Moore and Richard H. Langley in pdf.
Organic Chemistry II is a more intricate course than the typical freshman introductory chemistry course, and you may find that it's also more involved than Organic I. You may actually need to use those things you learned (and those study habits that you developed) in Organic I to be successful in Organic II. But if you work hard, you can get through your Organic II course. More importantly, you may grow to appreciate the myriad chemical reactions that take place in the diverse world of organic chemistry.
Organic Chemistry II For Dummies is an overview of the content covered in the second half of a typical college-level organic chemistry course. We've made every attempt to keep the material as current as possible, but the field of chemistry is changing ever so quickly — new reactions are always being developed. The basics, however, stay the same, and that's where we concentrate our attention.
While you flip through this book, you see many chemical structures and reactions. Much of organic chemistry involves knowing the structures of the molecules involved in organic reactions. If you're in an Organic Chemistry II course, you made it through the first semester of organic chemistry, so you probably recognize many of the structures, or at least the functional groups, from your previous semester's study.
Con

tents

Part 1: Brushing Up on Important Organic Chemistry I Concepts
Remembering How We Do It: Mechanisms
Alcohols and Ethers: Not Just for Drinking and Sleeping
Conjugated Unsaturated Systems
Part 2: Discovering Aromatic (And Not So Aromatic) Compounds
Introducing Aromatics
Aromatic Substitution Part I: Attack of the Electrophiles
Aromatic Substitution Part II: Attack of the Nucleophiles and Other Reactions
Part 3: Carbonyls: Good Alcohols Gone Bad
Comprehending Carbonyls
Aldehydes and Ketones
Enols and Enolates
Carboxylic Acids and Their Derivatives
Part 4: Advanced Topics (Every Student's Nightmare)
Amines and Friends
Metals Muscling In: Organometallics
More Reactions of Carbonyl Compounds
Living Large: Biomolecules
Part 5: Pulling It All Together
Overview of Synthesis Strategies
Roadmaps and Predicting Products
Part 6: The Part of Tens
Ten Surefire Ways to Fail Organic Chemistry II
More than Ten Ways to Increase Your Score on an Organic Chemistry Exam
Ten Simple Rules to Remember
Free download Organic Chemistry II For Dummies (2nd edition) authored by John T. Moore and Richard H. Langley in pdf from following download links.
Kindly follow these instructions to unlock the download link(s). Sometime download link(s) is/are not visible on mobile devices, so if you face this issue, kindly do visit this page via laptop/desktop computer.
Password for Download Links: chemistry.com.pk
File Size: 14.5 MB. Pages: 387. Download Instructions. Please read Disclaimer.
You may also like to free download
Free download hundreds of Best-Selling Chemistry Books from HERE.
P.S: If the download link(s) is/are not working, kindly drop a comment below, so we'll update the download link for you.
Happy downloading!