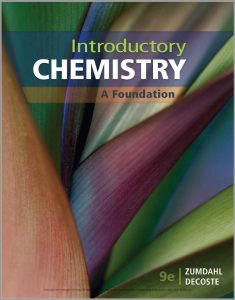 Free download Introductory Chemistry: A Foundation (9th edition) written by Steven S. Zumdahl and Donald J. DeCoste in pdf.
As per writers' "The ninth edition of Introductory Chemistry continues toward the goals we have pursued for the first eight editions: to make chemistry interesting, accessible, and understandable to the beginning student. For this edition, we have included additional support for instructors and students to help achieve these goals.
Learning chemistry can be very rewarding. And even the novice, we believe, can relate the macroscopic world of chemistry—the observation of color changes and precipitate formation—to the microscopic world of ions and molecules. To achieve that goal, instructors are making a sincere attempt to provide more interesting and more effective ways to learn chemistry, and we hope that Introductory Chemistry will be perceived as a part of that effort.
In this text we have presented concepts in a clear and sensible manner using language and analogies that students can relate to. We have also written the book in a way that supports active learning. In particular, the Active Learning Questions, found at the end of each chapter, provide excellent material for collaborative work by students. In addition, we have connected chemistry to real-life experience at every opportunity, from chapter-opening discussions of chemical applications to "Chemistry in Focus" features throughout the book. We are convinced that this approach will foster enthusiasm and real understanding as the student uses this text.
Con

tents
Measurements and Calculations
Matter
Chemical Foundations: Elements, Atoms, and Ions
Nomenclature
Chemical Reactions: An Introduction
Reactions in Aqueous Solutions
Chemical Composition
Chemical Quantities
Energy
Modern Atomic Theory
Chemical Bonding
Gases
Liquids and Solids
Solutions
Acids and Bases
Equilibrium
Oxidation–Reduction Reactions and Electrochemistry
Radioactivity and Nuclear Energy
Biochemistry
Free download Introductory Chemistry: A Foundation (9th edition) written by Steven S. Zumdahl and Donald J. DeCoste in pdf from following download links.
Kindly follow the instructions to unlock the download link(s). Sometime download link(s) is/are not visible on mobile devices, so if you face this issue, kindly do visit this page via laptop/desktop computer.
Password for Download Links: chemistry.com.pk
File Size: 50.0 MB. Pages: 790. Download Instructions. Kindly read the disclaimer.
You may also like to free download
Free Download Hundreds of Best-Selling Chemistry Books from HERE.
P.S: If the download link(s) is/are not working, kindly drop a comment below, so we'll update the download link for you.
Happy downloading!