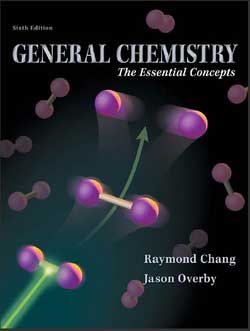 General Chemistry: The Essential Concepts (sixth and tenth edition) is written by Raymond Chang (Williams College) and Jason Overby (The College of Charleston) and published by McGraw-Hill in 2011. This book is fully colored and very helpful to understand the basics of general chemistry. This book is also known as Chang General Chemistry.
Table of contents of General Chemistry: The Essential Concepts (sixth edition)
Introduction
Atoms, molecules and ions
Stoichiochemistry
Reactions in aqueous solutions
Gasses
Energy relationship in chemical reactions
The electronic structure of atoms
The periodic table
Chemical bonding I: The covalent bond
Chemical bonding II: Molecular geometry and hybridization of atomic orbitals
Introduction to organic chemistry
Intermolecular forces and liquids and solids
Physical properties of the solutions
Chemical kinetics
Chemical equilibrium
Acids and bases
Acid-base equilibria and solubility equilibria
Thermodynamics
Redox reactions and electrochemistry
The chemistry of coordination compounds
Nuclear chemistry
Organic polymer – synthetic and natural
Free download General Chemistry: The Essential Concepts in .pdf from following download links. The download link is tested manually and found free from viruses.
Kindly follow the instructions to unlock the download link(s). Sometime download link(s) is/are not visible on mobile devices, so if you face this issue, kindly do visit this page via laptop/desktop computer.
[sociallocker id=1417]
 [/sociallocker]
Download Instructions
After clicking on download button a new window will open press download button and then click on download anyway button, your download will start.
Read Disclaimer
You may also like to download Chemistry (10th edition) By Raymond Chang in pdf.
P.S: If the download link(s) is/or not working, kindly drop a comment below so we could update the download link for you.
Happy downloading ?