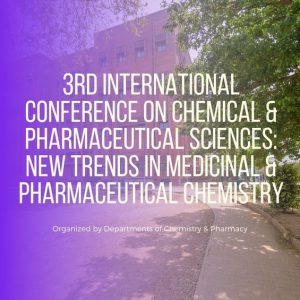 The Department of Chemistry in association with Department of Pharmacy Forman Christian College (A Chartered University), Lahore is organizing a three-day 3rd International conference on "Chemical and Pharmaceutical Sciences" from 29th to 31st January 2020.
The Conference aims to bring together eminent scientists and researchers, faculty and students, working in the fields of medicinal chemistry, nanoscience and nanotechnology and related areas to discuss and share new ideas and innovations, and to establish fruitful collaborations based on mutual interests.
The dedicated and concerted endeavors of the chemists and the pharmacologists have made the difficult journey of molecules possible as drugs from lab to market. In the process new ideas developed and new fascinating avenues of research created. It is highly desirable for researchers and academicians to keep their knowledge updated through personal and institutional associations and thus become a part of the development process.
Conference Theme
The conference aims to address and discuss all aspects of medicinal chemistry and related areas. Abstracts are invited from medicinal and pharmaceutical chemists for oral talks and poster presentation. Some of the themes (but in no way the only ones) to be covered in the conference are suggested below:
Synthetic (organic & inorganic) medicinal compounds
Natural products
Computer aided drug design & discovery (CADD)
Nanomaterials & their biological potential
Ligand based and structure based drug design
Enzyme inhibitors
Antimicrobial compounds
Recent developments in cancer research
Pharmacology & therapeutics
Pharmacodynamics & pharmacokinetics